News story
Voters urged to make their voices heard in independence debate
With just 200 days to go until the independence referendum, Scottish Secretary says now is not the time for complacency.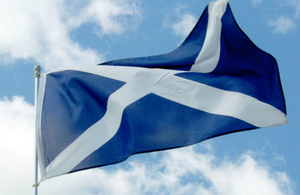 Voters in Scotland have been urged to make sure they're well informed and make their voices heard ahead of September's crucial independence referendum.
Scottish Secretary Alistair Carmichael said that, with just 200 days to go, now is the time for everyone to get informed – and he warned that nobody could afford to be complacent.
He also posed three questions for voters to consider:
What would independence mean for welfare payments, pensions and cold weather payments?
What would independence mean for income tax?
What would currency change mean for households across Scotland?
Stressing that this was a once in a lifetime decision which was too important to be left to chance, Mr Carmichael said:
The referendum is fast approaching and that means it's time for everyone to turn their attention to how they intend to vote.

But this is not a decision to be taken lightly – we cannot afford to gamble with our nation's future – so that means making an informed choice and to do that we all need to get the facts. There is a wealth of information out there already and I know there is much more to come.

And nobody should think that this is not a decision that matters for them. Crucial decisions – like whether you keep the UK pound in your pocket and who will be a British citizen – rest on this vote. There are also a host of great British institutions – from the BBC and the National Lottery to the Met Office and our Olympic teams – who would have to be broken up in the event of independence.

Independence would have far-reaching consequences. Some people will argue this is for the best but I maintain that Scotland is stronger and more secure as part of a United Kingdom and I will continue to make the positive case for this.

That's why I believe we must also guard against complacency. This ballot is not won and the outcome will not be decided until the last vote is cast. Everyone who has a vote should use it – and use it wisely.
Published 2 March 2014