World news story
Visit of Dr Liam Fox to Singapore
Dr Liam Fox, Secretary of State for International Trade and President of the Board of Trade visits Singapore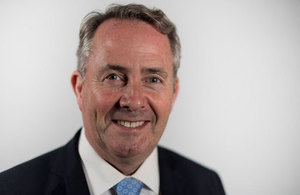 The British High Commission is pleased to announce that Dr Liam Fox, Secretary of State for International Trade and President of the Board of Trade, will visit Singapore from 20 to 22 February 2017.
During his visit, Dr Fox will call on senior Singapore leaders including Deputy Prime Minister and Co-ordinating Minister for Economic and Social Policies Tharman Shanmugaratnam and Minister for Trade and Industry (Trade) Lim Hng Kiang. He will also undertake a wide range of activities involving Singapore and British businesses and deliver speeches at the British Chamber of Commerce and a Business is GREAT Reception hosted by the UK's Department of International Trade Singapore.
Speaking in advance of the visit, HE Scott Wightman, the British High Commissioner in Singapore, said:
Dr Liam Fox's visit to Singapore highlights the deep and enduring links between Singapore and the United Kingdom and the new opportunities to deepen the relationship as the UK leaves the European Union.
During his visit, Dr Fox will meet Singapore leaders, business partners and key investors. He will underline the UK's commitment to free trade and will reiterate the message that the United Kingdom is open for business and the most attractive destination for investment, trade and business in Europe.
Published 20 February 2017