Press release
Views sought on A19 Testos junction improvement scheme
Local residents, businesses and road users are encouraged to join in with a seven week consultation into the £62 million A19 Testos junction improvement scheme.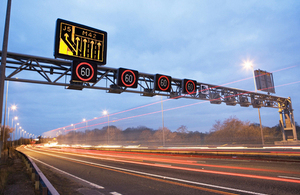 The consultation begins on Monday 13 October, continues until Friday 28 November and includes two events at the Quality Inn, Boldon:
Friday 7 November (12 noon to 8pm)
Saturday 8 November (10am to 4pm)
Exhibition materials showing the planned improvement - which involves raising the A19 carriageway above the existing ground level on an embankment and carrying it over the existing roundabout, slightly to the west, via two bridges plus constructing two connector roads between Testos junction and the next junction to the south (Downhill Lane) - will be on display. Highways Agency staff in charge of delivering the scheme will also be on hand to answer any queries visitors may have.
Following these exhibitions the displays will move to the Nissan plant (Sunderland), and will be displayed there for two weeks- allowing its many thousands of employees another opportunity to view/comment on the plans. Some 30,000 households will also receive questionnaires seeking their views.
Highways Agency project manager Adam Clelland said:
We are confident that the preferred route, announced by the Secretary of State for Transport in June, is the best suited to proceed. This consultation is another opportunity for those most directly affected to ask any questions they have, view the plans and offer their support.
The consultation will help design the preferred route in more detail and identify the land that will need to be acquired to construct the scheme. This will look at pedestrian, cyclist and equestrian access, drainage requirements, and reducing the impact on the environment.
The Planning Inspectorate will then consider all comments before coming to a final decision.
It is hoped that subject to successful approval by the Planning Inspectorate, and the availability of funding, construction work on the scheme could start by the end of the 2016/17 financial year.
More information about the scheme, including a video 'fly-through' of the proposed improvements can be seen on the Highways Agency's website.
For more information members of the public can contact the project team by email or by calling the Highways Agency Information Line on 0300 123 5000.
General enquiries
Members of the public should contact the Highways Agency Information Line on 0300 123 5000.
Media enquiries
Journalists should contact the Highways Agency press office on 0844 693 1448 and use the menu to speak to the most appropriate press officer.
Published 9 October 2014