World news story
Vietnam – the next growth market for your business?
Major export opportunities emerging as Vietnamese import demand forecast to grow 250% by 2020.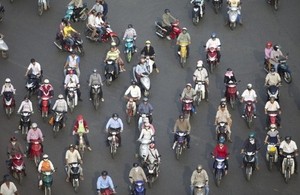 Vietnam's long term economic prospects fuelled by demographics and the dynamism of its workforce look promising. With a population of 90 million Vietnam is set to become an increasingly important market.
Vietnamese import demand is expected to grow by around 250% between 2010 and 2020 - faster than any other emerging power, including China. It's a good time for UK business to explore emerging opportunities so they are able to play their part in Vietnam's economic transformation.
Vietnam is now pursuing further trade liberalisation, including through negotiations towards a Free Trade Agreement with the EU. This process will:
stimulate trade and investment by reducing tariffs and removing barriers to trade

allow Vietnamese and UK businesses more space to grow together
This is a major opportunity for both sides – not least because the EU imports more Vietnamese goods than any other nation or trading bloc – and should create a more favourable environment for UK companies.
Opportunities
Vietnam is one of twenty high-growth markets that UK Trade & Investment (UKTI) has prioritised given the particularly strong potential for UK businesses. In an economy that has been radically transformed in the last decade, opportunities are emerging across the board.
UKTI Vietnam has identified the priority sectors:
ICT – the sector has seen 20-25% average growth in recent years, and contributes 7% to the country's GDP

advanced engineering - Vietnam has the the 3rd fastest growing aviation market in the world

energy (oil & gas) – Vietnam is south east Asia's third largest oil producer

education – Vietnamese culture attaches great importance to education as an investment in the future. There are over 7000 students in the UK, and great potential for partnerships in market too

retail - one of the world's fastest growing retail markets for over a decade - retail sales and service revenue to reach $103 billion in the first 10 months of 2013

healthcare - Vietnam plans to invest up to $1.5 billion in pharmaceutical production and $1.8 billion to upgrade overcrowded hospitals and build new ones by 2020

mass transit – with ambitious programmes in Hanoi and Ho Chi Minh City, an estimated $120 billion investment is required over the next seven years
UKTI are also pursuing three high value opportunities in Vietnam, which are:
preparations for the 2019 Asian Games in Hanoi

Vietnam's civil nuclear programme

urban regeneration in Ho Chi Minh City, including a new international airport and mass transit systems
New initiative
UKTI has a team of expert trade officers in both Hanoi and Ho Chi Minh City supporting UK businesses in identifying and pursuing opportunities in this exciting market.
UKTI and the British Business Group Vietnam are working in close partnership to provide support to UK companies as they explore new opportunities in Vietnam. This is part of a new initiative to strengthen UK business networks overseas.
Lord Puttnam of Queensgate, the Prime Minister's Trade Envoy for Vietnam, Laos and Cambodia recently visited Hanoi and Ho Chi Minh City for the GREAT Week programme of events. He officially launched the new British Business Centre. This centre will help to link established and experienced companies in Vietnam with those new to the market, giving them the best chance of success.
Background
The bilateral relationship between the UK and Vietnam is developing well. Trade and investment is a key part of the Strategic Partnership Agreement that was signed in 2010. Both bilateral trade and UK exports of goods and services to Vietnam more than doubled in the five years following Vietnam's accession to the World Trade Organisation in 2007.
Contacts
If you are looking to develop your business in Vietnam contact UKTIVietnam@fco.gov.uk.
Published 13 November 2013