News story
VAPC veterans forum in Oxfordshire
South east England Veterans Advisory and Pensions Committee (VAPC) Veterans Forum.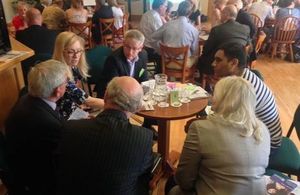 The sixth Oxfordshire Veterans Forum was held on 10 July 2015 at Edward Brooks Barracks in Abingdon, an Army Reserve Centre which is the home of The Rifles in Oxfordshire. The county has over 9,000 service personnel, 5,000 dependants, 1,000 reservists and an estimated 50,000 veterans.
The forum was attended by 75 people from a wide variety of organisations involved in meeting veterans needs, including the Lord Lieutenant and 3 local MPs.
Oxfordshire was the first county to sign the armed forces covenant. The aim was to encourage charities, local authorities, businesses, communities and individuals to work together with the military to offer support to service personnel and their families, as well as reservists and veterans.
The veterans forum was established by SEVA&PC members. with the aim of supporting the development of the Oxfordshire Armed Forces Community Covenant by facilitating greater liaison between the service charities, the Lieutenancy, 11 Brigade, the local army garrisons and RAF bases, the Veterans Welfare Service, Oxfordshire County Council, the District Councils, the NHS, DWP and the SEVA&PC, in the transition of service personnel to civilian life and in identifying and addressing veterans' welfare and pension issues.
Amongst many issues raised and actions from the sixth veterans forum were the following:
examine the provision of a regular Oxfordshire newsletter on transition/veterans matters
map providers: where they fit? where to get information?
examine feasibility of establishing a central point of contact in the county
there are too many providers for leavers' needs; examine the provision of some kind of triage system in the county to help leavers' in areas such as housing and divorce
stimulate a unified housing policy across the local authorities in the county
requirement for greater veteran participation and representation in the county's military partnership/covenant processes
reinforce understanding amongst local businesses of the commitment involved in the corporate covenant?
a need to Improve access to NHS dentists
address NHS waiting list times and difficulties on posting for existing previous area appointments
tackle Inability of service leavers to register with GPs in a new area before discharge/retirement
need for receiving NHS Trust to accept existing paperwork/forms from losing trust
requirement to ensure priority medical treatment of veterans
adjust GP registration form to identify reservists
Identify GP practices which are not registering veterans and inform Oxfordshire Healthwatch
It is expected that the next forum will be held in July 2016. Anyone interested in attending should email Robin Draper on RDr9982139@aol.com.
Published 19 October 2015