Press release
University rapist is locked up for longer
Loughborough University rapist will now be locked up for over 11 years following ULS referral from the Solicitor General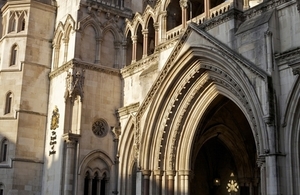 Ibrahim Elamin, 35, who carried out a series of rapes against university students on their way home, will now spend longer in prison following a referral from the Solicitor General under the unduly lenient sentencing scheme.
Elamin originally received a 7 year and 8 months' prison sentence for rape and two other sexual offences when he appeared at Leicester Crown Court in May.
Over a period of six weeks in 2010, Elamin committed three similar offences against young males on a university campus. He lay in wait to attack students at Loughborough University who were on their way home from the Students' Union. Two of the victims were alone, with another being lured away from his friends before being sexually assaulted.
Solicitor General, Robert Buckland QC MP, argued that the original sentence given to Elamin was unduly lenient. The Court of Appeal has today increased his sentence to 11 years and 3 months.
Speaking after the hearing, the Solicitor General said:
"These were premeditated attacks, preying on young men on their way home. Young people should be able to enjoy a night out and walk home without fear.
"I felt the original sentence did not accurately reflect the seriousness of this offending and I am pleased that the Court of Appeal agreed with me."
Published 13 July 2017