Press release
Universities Minister visits Student Loans HQ in Glasgow
Chris Skidmore, Minister of State for Universities, Science, Research and Innovation, today (1 March) visited the Student Loan Company (SLC) in Glasgow.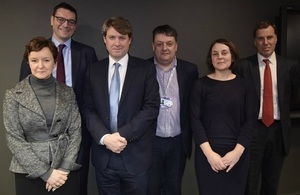 SLC is responsible for administering all student loans across the UK and employs 3300 people in total, 1700 of them in Glasgow.
During his visit the Minister met with SLC Chief Executive, Paula Sussex, and other members of the leadership team. He also had the opportunity to drop in to the company's contact centre and listen into live calls from customers.
Universities Minister Chris Skidmore said:
"This Government has introduced reforms to make sure that higher education is open to everyone who has the talent and potential. It is encouraging that disadvantaged 18-year-olds are going to university in record rates and the Student Loans Company has a crucial role to play in enabling access to higher education.
"It was great to meet staff at the Student Loans Company today and learn about the innovative work it is doing in its ongoing efforts to improve the service for borrowers."
Paula Sussex said:
"It was a genuine pleasure to welcome the Minister to SLC today, and to have the opportunity to showcase how we enable our customers to invest in their futures through higher and further education."
For further information contact:
Published 1 March 2019