World news story
Unity in Remembrance
Remembrance Day marked in Tanzania.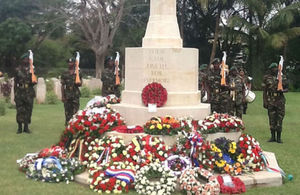 On Sunday 10th November Tanzanians joined with representatives from other Commonwealth nations and other members of the international community at a service of remembrance held at the Commonwealth War Graves Cemetery in Dar es Salaam, Tanzania. The service, honouring and remembering those who have fallen in conflict, past and present, was co-hosted by the British High Commissioner, Dianna Melrose and Chargé d'Affaires of the Federal Republic of Germany, Hans Koeppel. A ceremonial honour guard and band was provided by the Tanzanian People's Defence Force.
The service recognised the different faiths of those who fell in battle in East Africa. This year a Muslim prayer was given by Sheikh Alhad Mussa Salum. A prayer to Tanzanian veterans was read by Mr Foti Nyirenda, the son of the late Brigadier Alex Gwebe Nyirenda who at the eve of Tanzania's independence hoisted Tanzania's flag (then Tanganyika) on the summit of Mt. Kilimanjaro. Following observance of a 2-minute silence, the British High Commissioner led the wreath laying at the Commonwealth Memorial before moving on to a service at the German War Memorial.
Quoting from Laurence Binyon's poem For the Fallen, the British High Commissioner quoted the words "They shall grow not old, as we that are left grow old".
Published 14 November 2013