World news story
United for Lebanon
'One Lebanon' team VS 'ambassadors/diplomats', German penalties take the 'Ambassadors' team to victory, winner Lebanon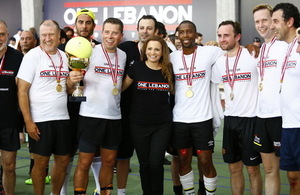 "Together we are Stronger: One Goal, One Audience, One Lebanon!"
With those words the "ONE LEBANON" team rocked the football pitch at Notre Dame de Jamhour school in a friendly game against ambassadors/diplomats, all united for a One Lebanon.
Following the successful game organized by ONE LEBANON and the British and German embassies in Beirut in December 2014 to mark the 100th anniversary of the Christmas Truce, today's game was dedicated to Lebanon's Amity.
Ambassadors and diplomats from the British (Ambassador Tom Fletcher, Tom Russell, Jonathan Mayers and Marwan Haidar), German (Ambassador Christian Clages, Raymond Tarabay), Danish (Ambassador Rolf Holmboe) and Australian (Ambassador Glenn Miles) embassies played against the ONE LEBANON team consisting of Lebanese celebrities, businessmen and friends of ONE LEBANON namely Michel Fadel, Tony Abou Jaoude, Walid Doumiati, Silvio Chiha, Dr. Fouad Zmokhol, Philippe de Bustros, Jade Haddad, Johnny Fenianos, Nassib Madi, Tony Fenianos and Paul Ibrahim; proving once again the power of sports in uniting people and breaking all barriers.
Lebanese Soprano Tania Kassis, Founder and President of ONE LEBANON who has recently received a Murex d'Or as "Lebanese Ambassador of International Theatres in the world" and for her song WATANI as the "Best Patriotic Song" of the year said: "The world is united today through the ambassadors of foreign countries to support Lebanon and they are at the same time challenging the Lebanese to be united and win! Whoever wins, Lebanon is a winner!
British Ambassador Tom Fletcher and proud ONE LEBANON Ambassador was right when he said in his blog back in Feb 2014 "I don't think we have heard the last of ONE LEBANON. Those behind this initiative have a vision that showcases Lebanon's talent, a citizen driven moment when the Lebanese show their resilience and hope".
Among the enthusiastic and vibrant supporters present at the game were many celebrities, ambassadors and sport anchors such as Aline Lahoud, Mike Massy, Maritta Assi Hallani, Maxime Chaya, Remi Bandali, Ghayath Dibra, Charbel Krayem and Elias Helou as well as the ONE LEBANON committee members and volunteers.
The game ended with a tie 2-2 taking both teams to penalty shots after which the 'ambassadors/diplomats' team won. This game not only united the rest of the world but the media, as it was broadcasted simultaneously on several TV Stations such as LBC and OTV thanks to the generous support of Télé Liban, and covered by special reports in the prime-time news of all the Lebanese TV channels!
This Football Amity Game was in partnership with ONE LEBANON's Official partner ABC who share the same vision of a "One Lebanon, United for Tomorrow" - the NGOs' official slogan - and sponsored by Fransabank. Mike's Sport offered the trophy & the medals for the winners.
Published 30 June 2015