Press release
United and City supporters reminded of M56 closure
Football fans heading to Old Trafford and Anfield at the weekend are being urged to totally avoid the M56.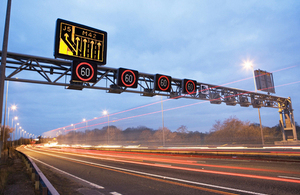 The section of the motorway around Manchester Airport will be closed for the entire weekend and Manchester United supporters are being advised to only use the official diversion to and away from the Premiership clash with Sunderland at Old Trafford on Saturday 28 February, using the M6, M62 and M60.
Manchester City fans travelling to the away match with Liverpool at Anfield on Sunday 1 March are also being advised to avoid the motorway, and to use the M60 and M62 instead.
A new bridge is being installed between junction 6 at Hale and junction 5 at Manchester Airport with the motorway totally closed in both directions between these junctions between 10pm on Friday 27 February and 5am on Monday 2 March.
There will be no access whatsoever from the M56 towards or away from Manchester city centre and only drivers needing to catch flights to Manchester Airport should use the eastbound M56 after junction 9 at Lymm.
United's match with Sunderland is at 3pm on Saturday and, while local roads and the M56 south of Old Trafford are popular with fans, they are being urged on this occasion to avoid the M56, stick to the official diversion route and leave extra time to make kick-off.
City's match with Liverpool is at noon on Sunday when the M56 will still be closed for the bridge work. Only drivers catching or meeting flights at Manchester Airport should use the M56 – there will be no through access out of Manchester for anyone heading to Liverpool or back into Manchester for people heading home after the match.
City fans are being urged to avoid the M56, use the M62 instead and leave extra time to make the kick-off.
Highways Agency project manager Mark Mosley said:
United fans really will find it easier to avoid the M56 beyond junction 9 on Saturday and use the M6, M62 and M60 into and away from Old Trafford instead.

City fans who had been planning to use the M56 to get onto routes for Merseyside will also be better to use another route instead, as they also run the risk of getting caught up in airport traffic and missing the match.

Our advice to anyone other than drivers heading to the airport to catch or meet flights is simply: 'please stay away'.
More information about the weekend closure, including more detailed diversion advice, is available from the project webpage.
Drivers are urged to check travel conditions before setting out on journeys.
The Highways Agency provides live traffic information via its website, local and national radio travel bulletins, electronic road signs and mobile platforms, such as the iPhone. Local Twitter services are also available at @HAtraffic_nwest.
Providing they can do so safely, road users can also call the Highways Agency Information Line (0300 123 5000) to keep up to date with road conditions. Manchester Airport is urging people travelling to the airport to plan ahead and leave extra time for journeys.
General enquiries
Members of the public should contact the Highways Agency Information Line on 0300 123 5000.
Media enquiries
Journalists should contact the Highways Agency press office on 0844 693 1448 and use the menu to speak to the most appropriate press officer.
Published 26 February 2015