News story
Undertaking provided for witnesses in undercover policing inquiry
Individuals providing certain evidence to the Undercover Policing Inquiry can do so without fear of prosecution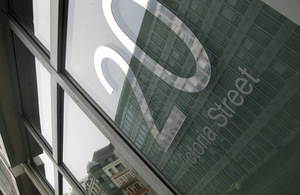 Individuals providing certain evidence to the Undercover Policing Inquiry can do so without fear of prosecution, the Attorney General Jeremy Wright QC MP has confirmed.
The undertaking means that those who give evidence to the Inquiry and who meet the terms of the undertaking will not face prosecution as a result of the evidence that they give. It does not prevent prosecutors from following up evidence they receive by other means.
The written undertaking was provided at the request of the Inquiry Chairman, Sir Christopher Pitchford.
Attorney General Jeremy Wright QC said:
"The Inquiry's priority is to establish the facts about undercover policing and I hope this undertaking will help leave no stone unturned. Witnesses should feel able to give evidence confident that nothing they say will later be used against them in criminal proceedings."
Published 6 September 2016