World news story
UKTI and RSM Greece present the European Business Awards
On 4 December 2013, UKTI Athens team and RSM Greece hosted the European Business Awards at the British Residence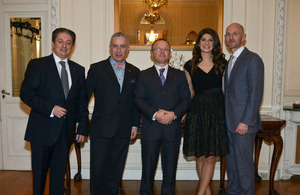 Both RSM Greece (a member of RSM International) and UKTI are sponsors of the European Business Awards. This event takes place every year and this is the seventh year in a row. The European Business Awards is an independent non-profit organisation which promotes success, innovation and ethics in the European business community.
UKTI works to encourage the best overseas companies to look to the UK as their global partner of choice, and to work with UK-based businesses to ensure their success in international markets. We have 2 main aims:
increase the contribution of foreign direct investment in the UK, with an emphasis on innovative and R&D active firms
deliver a measurable improvement in the reputation of the UK in overseas markets as the international business partner of choice.
The Award Ceremony
The awards were presented to 46 national champions at a ceremony supported by UKTI Greece. The event was opened by:
Mr Thanasis Skordas, Deputy Minister of Development & Competitiveness
Mr Andrew Staunton, Deputy Head of Mission, British Embassy
Mr Adrian Tripp, CEO of the European Business Awards
The Greek companies that were showcased at yesterdays EBA's are now competing with other National Champions from 31 European countries for the honorary Ruban d'Honneur title – to be announced in January 2014. Adrian Tripp, CEO of the European Business Awards said:
This year the judges were impressed by the highly qualified participants from Greece. After long discussions and opinion exchange we decided to announce 46 Greek companies as National Champions allowing them to qualify to the next stage of the competition''.
Contacts
If you are a UK company looking to expand your business in Greece please contact:
Department for International Trade Greece
British Embassy
Ploutarchou 1
106 75
Greece
Published 5 December 2013