News story
UKTI DSO at the 2015 Paris Air Show
UKTI DSO helps UK defence and security companies showcase their products and services to an international audience.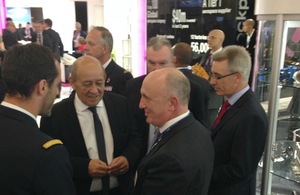 The Paris Air Show is one of the most prominent air shows in the world covering the civil and defence aerospace sectors.
The 2015 show was an ideal opportunity for UK Trade and Investment Defence and Security Organisation (UKTI DSO) to support the attending UK companies.
UK Pavilion
UKTI DSO worked closely with ADS trade association to provide the UK Pavilion, which presented UK products and services to a global audience.
Over 20 delegates from 15 countries visited the UK pavilion along with a member of a Gulf Royal Family and met the 6 attending defence and security companies.
Networking
Head UKTI DSO Stephen Phipson who led the UKTI DSO delegation spent time with a number of UK companies, participated in various bi-lateral meetings and had an opportunity to meet briefly with the French Defence Minister.
Stephen Phipson Head of UKTI DSO said:
I was impressed with the number of international delegations who visited the UK Pavilion; a significant increase on previous exhibitions.

This was an outstanding networking event and a chance for us to meet with our international colleagues whilst supporting both primes and most importantly the smaller companies who had taken to trouble to attend.
Planning will start later this year for the Farnborough Air Show in 2016.
Published 2 July 2015