World news story
UKTI announces Entrepreneur Festival to bring global talent to Britain
The Entrepreneur Festival, launched by UK Trade & Investment (UKTI), is a new venture aimed at boosting Britain's community of young entrepreneurs with global ambitions.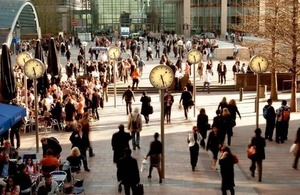 The Entrepreneur Festival will offer final year students (BA/BSc level, Masters or Research degree programmes) and recent graduates from universities around the world an intensive induction into what it's like to be a young entrepreneur in the UK.
Hosted in Manchester from 4-6 September, the Festival will bring budding entrepreneurs from a huge range of different countries together to learn about, and be mentored in, how to start a business in the UK. It will provide an opportunity to meet investors and inspirational mentors to get insight and advice, visits to UK businesses in a variety of sectors, and experience of working with peers from around the world to tackle practical business challenges.
The UK is one of the best places in the world to become an entrepreneur and offer the guidance and support of the country's entrepreneurial community, experts and specialist networks to graduate talent into the UK. If you're a final year student or graduate and you have an exciting idea that you think one day will create a successful business, come to UKTI's Entrepreneur Festival and find out how you can realise your ambition.
The Festival will offer hands on experience of what it's like to be a young entrepreneur in the UK and also to learn about how to set up and run a business. There will be a great line of up speakers and investors as well as the opportunity to hear and to be mentored by inspiring UK-based entrepreneurs. This means exclusive access to insight and advice from entrepreneurs whose success stories started in the UK.
The bespoke programme and action-packed three days will include trips to business environments, a lot of fun networking, during the day and at our evening receptions, a surprise visit and working with other graduates from around the world.
The Festival is open to recent graduates or final year BA/BSc level, Masters or Research degree students at, universities in the UK and elsewhere in the world. Visit Entrepreneurs Festival for more details.
Published 6 August 2013