World news story
UK's GREAT Debate comes to Chennai
The British Deputy High Commission, Chennai hosted the Chennai heat of the GREAT Debate 2014 on 10 October 2014.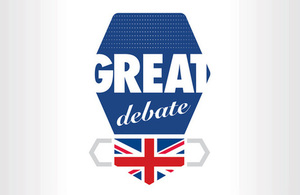 The British Deputy High Commission in partnership with British Council, Chennai hosted the Chennai heat of the GREAT Debate 2014 India to celebrate and encourage debating prowess and offer an opportunity for informed discussion amongst the student fraternity.
Following a very successful pilot of the GREAT Debate Competition held earlier this year, in collaboration with universities in Delhi, Kolkata and Chandigarh, the British High Commission network has decided to make the event bigger and better this time.
Themes of today's debate revolved around topics such as:
Academia and Industry
Education and Journalism
24 colleges from across Tamil Nadu and Pondicherry participated to secure a place in the grand finale of the GREAT Debate Competition in November 2014. Similar heats will be organised in Trivandrum on 21 October 2014.
The judges for the debate were:
K Saraswathi, Secretary General, The Madras Chamber of Commerce & Industry
Dr Gladston Xavier, Head, Department of Social Work, Loyola College, Chennai
Kumar, Senior Trainer and Consultant
The following institutions participated in the debate:
Women's Christian College
Sathyabama University
Rajiv Gandhi College of Engineering and Technology
B S Abdhu Rahman University
Saveetha Engineering College
PSG College of Technology
SRM University
Sri Ramachandra University
Bharat University
MOP Vaishnav College
Rajiv Gandhi National Institute of Youth Development, Sriperumbudur
Lady Doak College, Madurai
National Institute of Technology, Trichy
Amrita School of Engineering, Coimbatore
Dr MGR Educational and research institute
Madras Christian College
Dr.NGP Institute of Technology
Karunya University
Dr.NGP college of arts and science
Kumaraguru College of Technology, Coimbatore
IIT Madras
Bishop Heber College, Trichy
AMET University
Stella Maris College
Mei-kwei Barker, Director, British Council South India said:
It was a pleasure to organise this debate at the British Council which gave us an opportunity to celebrate the UK and India's shared tradition of lively, reasoned debate and our close educational ties. This was evident from the lively and informative debate that we just witnessed. It also gave us an opportunity to further strengthen our relationship with the universities/colleges across Tamil Nadu and Pondicherry that you are representing.
The theme for the final debate was 'Is there a gap between academic achievements and career prospects?'
Aparna Gopan S and Ewan Nikhil Thomas from Madras Christian College were declared winners in the debate. Zeeshan Ahmed Shakir and Shekhar Pathak from Sathyabama University were the runner ups.
The winning team from the regional heat will participate in the grand final in New Delhi in November 2014. The winning team from the national final will be offered a one-week sponsored tour in the UK, which will include visits to historical sites, academic institutions and cultural events, as well as meetings with British students.
British Council, the Chevening Scholarships programme, and Virgin Atlantic are partnering with the British High Commission to organise the GREAT Debate across India.
Notes for Editors:
The GREAT Debate is an unique opportunity to celebrate the UK and India's shared culture of vibrant discussion and debate. British Deputy High Commission and British Council are jointly organising The GREAT Debate. The participants of the debate are students below 23 years of age as on 31.12.2014.
For more information please visit: GREAT Debate, British Council, Chevening Scholarships, Virgin Atlantic
The British Council creates international opportunities for the people of the UK and other countries and builds trust between them worldwide. We are a Royal Charter charity, established as the UK's international organisation for educational opportunities and cultural relations. Our 7,000 staff in over 100 countries work with thousands of professionals and policy makers and millions of young people every year through English, arts, education and society programmes.
The British Council is recognised across India for its network of 9 libraries and cultural centres. We offer a range of specialised projects in arts, education, exams, English language and society to audiences across India and more than 100,000 members. We also provide access to English language training and learning for both students and teachers, offer UK qualifications in India and enable opportunities to study in the UK. We also manage prestigious scholarships and training awards, including the Jubilee scholarships, the Commonwealth Scholarship and Fellowship Plan and the Charles Wallace India Trust awards. Our English language teaching centres in Chennai, Delhi, Hyderabad and Kolkata provide a range of general and business English classes, specialised skills based programmes and young learner courses.
We work with a wide range of Indian partners in cities all over India enabling British and Indian experts to meet and collaborate and to nurture mutually beneficial relationships. A quarter of our funding comes from a UK government grant and we earn the remainder from services which customers pay for, education and development contracts we bid for, and from partnerships.
For more information, please visit: British Council. You can also keep in touch with the British Council through twitter and blog
For media information contact Rajeswari Pradeep Kumar, Senior Manager, Marketing and Communications (South India)
Published 10 October 2014