World news story
UK's Chief Whip in Cameroon For the First Time
Mr. Carmichael on a Volunteer Visit to Cameroon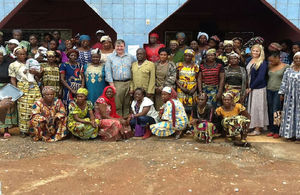 UK's Member of Parliament representing the constituency of Orkney and Shetland in Scotland, Alistair Carmichael has just ended a two weeks working visit to Cameroon on human rights, with a non- profit making organization All for Cameroon, one of VSO's partner organizations based in the North West Region of the country.
Mr. Alistair Carmichael's first ever volunteer visit to Cameroon and Africa was aimed at supporting All for Cameroon's work to protect poor people's access to legal justice, and to help the organization raise a number of human rights cases with the Cameroonian authorities. These include, amongst others, the right of women to own and inherit land – currently a priority topic in the work of VSO Cameroon.
Following an intensive one week field work in Bamenda, North West Region of Cameroon, Mr. Carmichael paid a courtesy visit to the Cameroon Minister Delegate in charge of Commonwealth where both personalities shared very useful information concerning the human rights situation in Cameroon. This working visit comes after Cameroon, alongside other Commonwealth member states, recently adopted a new Commonwealth Charter, which calls on member states' to adhere to international human rights conventions amongst others.
www.facebook.com/ukincameroon http://alistairincameroon.wordpress.com/
Published 30 August 2013