World news story
UK's CDC Group, Globeleq back in Egypt
UK's CDC Group, Globeleq back in Egypt to scope out new opportunities.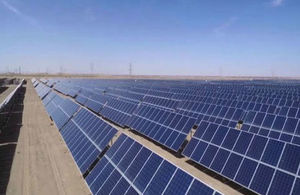 15 January - A delegation from United Kingdom's development finance institution, CDC Group, and its subsidary Globeleq arrived to Egypt to explore new investment opportunities and potential areas of increased cooperation with Egyptian ministries and companies.
CDC Group met with Minister of Electricity and Renewable Energy Mohamed Shaker, Minister of Transport Dr. Hisham Arafat, and Head of PPP Unit at the Ministry of Finance Atter Hannour, senior advisor to Minister of International Cooperation Moataz Yakan. They also met with Undersecretary to Minister of Petroleum Eng. Mohamed Saffar, and Chairman of the Suez Canal Authorty and Economic Zone Admiral Mohamed Mameesh.
UK Ambassador to Egypt John Casson:
2018 will bring a new British wave of job-creating investments in a range of sectors. UK investors like CDC Group have demonstrated their commitment to working with Egypt on ambitious projects that benefit all Egyptians. This decade alone, UK companies have invested $43 billion in Egypt, and we're seeing many British investors expanding their existing work in Egypt and finding new opportunities to invest.
Sameh Shenouda, CDC's Head of Infrastructure said:
Egypt presents significant private sector development opportunities. Its strategy of becoming a regional energy hub, exporting to the region and providing interconnection between neighbouring countries, means that there are many opportunities across infrastructure sectors including energy generation and transmission, gas and fuel supply and related transport and logistics including ports and rail. CDC will be looking to support development impact opportunities with both debt and equity investment.
The UK-government owned company is a major investor in an IFC-led consortium that announced $653m funding to the Nubian Suns solar power plant project in Aswan in October. Their share, USD $97m (over EGP 1.7bn), will support the generation of 400 MW of clean energy, over 20% of the total generating capacity of Benban Solar Park. CDC Group has returned to Egypt to look for other ambitious opportunities in the fields of infrastructure, finance and renewable energy.
Published 18 January 2018