World news story
UK's Arab Partnership and World Bank in Egypt
The launch of the World Bank's Development Marketplace in Egypt, supported by the UK's Arab Partnership Initiative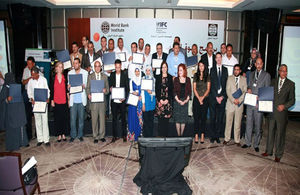 This Monday, 17 June, saw the launch of the World Bank's Development Marketplace in Egypt, supported by the UK's Arab Partnership Initiative. Social entrepreneurs from all over the country came to talk about their work and plans for the future and told inspiring stories of people in villages and towns taking the initiative to provide jobs, services and opportunities for their communities, helping to reduce poverty and strengthen dignity and social justice.
Monday's ceremony was the culmination of a nationwide competition and saw the award of grants and technical advice and support to 34 small organisations, many from Upper Egypt. Each winning organisation will receive a grant of $25,000 to begin implementing their idea as well as support in marketing, IT, design, management and other areas as required. The competition focused on agricultural businesses and the handicrafts sector and included projects such as using agricultural waste to produce compost therefore reducing the environmental impact and expense of using chemical fertilisers, tackling waste in food supply chains, reviving traditional handicrafts, and irrigation channel management.
Speaking at the launch, the UK's Deputy Ambassador, Stephen Hickey, praised the creativity and passion of the winning entries and also applauded the many technical partners in the project, such as Microsoft, Sobh Industries and the International Labour Organisation, who have come forward to provide free advice and support to the winning enterprises. He said 'the collaboration in this project of a number of development partners, foundations, private sector companies and Egyptian Government agencies underlines our shared goals and sets the benchmark for other development initiatives in Egypt'.
Although starting modestly, the Development Marketplace is piloting a new approach, bringing together the best of the public, private and non-for-profit sectors. We wish all the winning organisations the very best of luck!
View the photos
Published 19 June 2013
Last updated 23 June 2013
+ show all updates
photo edited
pic changed
edited
First published.