World news story
UK's aid to Syrian refugees and host communities in Lebanon
Mark Lowcock, Permanent Secretary of the Department for International Development visits Lebanon sees impact of UK funded operations.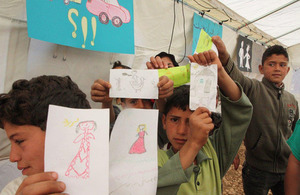 Mark Lowcock, Permanent Secretary of the Department for International Development, has just completed a two-day visit to Lebanon, where he saw firsthand the impact of UK funded operations in delivering humanitarian aid in Lebanon.
The UK was amongst the first countries to respond to the Syria humanitarian crisis, and is one of the largest bilateral donors. Our commitment to the response in the region recently increased to £500m. Mr Lowcock saw how, through DFID's partners in Lebanon (including Save the Children, the International Rescue Committee (IRC), UNHCR, WFP, UNICEF, UNRWA), the UK's £66 million contribution will provide refugees with food, shelter and education as well as helping Lebanese host communities who have shown such generosity.
Speaking from Lebanon's Bekaa Valley, Mr Lowcock said: 'It is tragic to see the impact the Syrian conflict has had on families who want nothing more than to raise their children in peace and dignity. The UK is helping tens of thousands of children access education and is supporting host communities through projects to improve shelter, water and sanitation and access to sustainable livelihoods. As the second largest international donor, we are proud to be helping so many of the families fleeing the violence in Syria, and vulnerable Lebanese communities who have shown such generosity, to live in the dignity and safety we all expect and deserve.'
Whilst in Lebanon, the Permanent Secretary visited a registration centre operated by UNHCR, an informal tented settlement supported by the UN and NGOs, and a public school supported by UNICEF in the Bekaa. At all locations, UK contributions are helping improve the living conditions of the refugees. He was accompanied by UNHCR's representative in Lebanon, Ninette Kelley, UN Resident Coordinator, Robert Watkins and UNICEF country representative Annamaria Laurini.
The Permanent Secretary also met with the mayor of Jib Jennine where DFID's partners and municipal authorities are together delivering solid waste treatment for Lebanese host communities and Syrian refugees in the Bekaa. The UK is contributing to the provision of water and sanitation facilities to more than 40,000 refugees, particularly women and children, through UNICEF Lebanon.
Mr Lowcock also met with caretaker Prime Minister Mikati, caretaker Minister of Social Affairs Abu Faour, Central Bank Governor Riad Salameh, Director-General for Education Fadi Yarak, as well as UN agencies and international NGOs in Lebanon. In his meetings Mr Lowcock reiterated the UK's continued commitment to supporting Lebanon as it responds to the ongoing Syrian crisis.
Published 22 October 2013