World news story
UK sponsors defence training course in Ghana
Opening ceremony for the UK-sponsored flagship course Managing Defence in the Wider Security Context (MDWSC) was held in Accra today.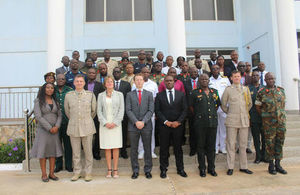 The Opening Ceremony was held today at the (KAIPTC) Kofi Annan International Peacekeeping Training Centre in Accra for the UK-sponsored flag-ship course, (MDWSC) Managing Defence in the Wider Security Context . This course, delivered in partnership between KAIPTC, Cranfield University and the UK Defence Academy, brings together military, civilian and other public agency representatives from across Ghana, but also from Cote d'Ivoire, Gambia, Guinea, Sierra Leone and Togo – it is a truly international and multi-agency course.
Over the course of 2-weeks, the combined Ghanaian and British facilitating staff will enable representatives from across the security sector to contribute to the development, implementation and review of national security and defence policies. In formally opening the course the Deputy Minister of Defence, the Honourable Kenneth Adjei, welcomed all participants and reflected on the strong support provided by the UK government and Cranfield University, and acknowledged the work of the UK Defence Adviser to Ghana, in enabling the delivery of this course, now in its 5th iteration in Ghana.
In adding to the Deputy Minister's remarks, HE Gavin Cook OBE, the Deputy High Commissioner to Ghana, noted the security challenges in the world, but also the work of the UK government across Africa delivered through a network of 36 posts, 19 British Council offices and 16 DfID offices – with UK spending on security for Sub Saharan Africa at £88 million in 20 countries.
He further noted that in 2016 the UK will double troop contributions to peacekeeping through deployments to South Sudan and Somalia; and that the UK will host a major international Defence Ministerial on 7-8 September, co-hosted with Rwanda and Ethiopia, to build military capabilities and champion peacekeeping reform.
Further opening speeches by Dr Laura Cleary of Cranfield University and Maj Gen O B Akwa, Commandant KAIPTC, set the scene for the lively engagements that are sure to take place amongst the multi-national participants, which will be certain to lead to the successful delivery of this latest MDWSC course by the UK and Ghana partnership.
Published 11 July 2016