Press release
UKAEA secures role in Europe's new spallation source
UKAEA has been selected to supply the Hot Cell Remote Handling Facility for the new €1.8 billion European Spallation Source (ESS).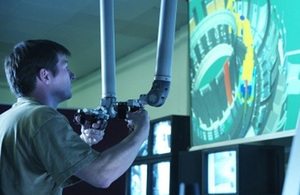 ESS is currently under construction in Sweden. The Hot Cell is a critical downstream support facility to handle and process components from the target station. The Hot Cell consists of handling equipment such as power manipulators and cranes, processing equipment for remote cutting and welding, shielding and transit cases, all fully remote-controlled via a central control system.
The design and development activities will be led within UKAEA by RACE – UKAEA's remote handling and robotics centre. In 2014 RACE (Remote Applications in Challenging Environments) was awarded government funding to construct a new facility and build on the extensive remote handling capabilities developed over 20 years at Culham in support of the JET European fusion research programme.
The UK's overall contribution to the ESS project is led by the Science & Technologies Facilities Council (STFC). Robert McGreevy, Director of the ISIS facility in STFC, said:
We are delighted to have UKAEA and RACE, with their considerable experience in remote handling, leading this high-value work package for the UK.
Head of RACE, Rob Buckingham, said:
Nuclear robotics has been identified as a key component of the UK Government's Robotics and Autonomous Systems strategy. Delivering the ESS Hot Cell supports this strategy and is good news for Britain's robotics community.
RACE Head of Business Development Martin Townsend added:
Our selection by ESS/STFC demonstrates our leading expertise in nuclear remote handling system design and unique operational remote maintenance experience. We look forward to working with the nuclear supply chain to deliver this exciting project.
For more information please contact Nick Holloway at the UK Atomic Energy Authority on 01235 466232 or Email: nick.holloway@ccfe.ac.uk.
Notes to Editors:
European Spallation Source
The European Spallation Source (ESS) will be a multi-disciplinary research centre based on the world's most powerful neutron source. Once constructed, in Lund, Sweden, it will provide new opportunities for researchers in a broad range of scientific areas including life sciences, energy, environmental technology, cultural heritage and fundamental physics.
Based on the same principle as ISIS – the UK's neutron source – the ESS will be an accelerator-based facility producing neutrons for a large array of advanced instruments. It is one of Europe's largest scientific projects. Construction started in July 2014, aiming at the source producing first neutrons around 2020.
The UK is a partner in construction of the ESS alongside around 16 other European countries, and has committed significant funding for construction. The Science & Technologies Facilities Council is managing the UK contribution to the ESS, which includes in-kind contributions to ESS construction.
More information: link to STFC site
RACE (Remote Applications in Challenging Environments)
RACE conducts R&D into many applications of robotics and remote handling technology. It is a key facility for implementing the Government's Robotics and Autonomous Systems strategy, which aims to equip the UK to compete in this emerging global industry.
The UK Atomic Energy Authority brings to RACE its own experience with remote handling, honed over twenty years developing systems to maintain and upgrade the interior of Europe's JET nuclear fusion experiment at Culham. Remote handling at Culham has evolved to perform ever more complex tasks including attachment of tiles and diagnostics, wiring, welding and detailed surveys.
RACE offers access to state-of-the-art test facilities, robotic equipment and expertise to SMEs, multinationals, research laboratories and academia from areas such as space applications, deep sea exploration, fusion research and the advanced nuclear fission industry. A new purpose-built 3,000 square metre centre for RACE will open at Culham in early 2016, expanding the range of activities the facility can undertake.
UK Atomic Energy Authority (UKAEA)
The UK Atomic Energy Authority carries out fusion research in the UK on behalf of the government and manages the JET fusion project on behalf of the EU at Culham Centre for Fusion Energy. UKAEA is diversifying its activities to include benefit a wider range of industrial and academic users with RACE and a new Materials Research Facility, both now being constructed at Culham.
In addition, UKAEA is responsible for several civil nuclear pension schemes, and owns land at the Harwell-Oxford and Culham Science Centre sites in Oxfordshire with the aim of further developing these thriving science, technology and business parks.
More information: www.gov.uk/ukaea
Published 28 July 2015