News story
UKAEA named as a Top 100 Apprenticeship Employer
UKAEA's award winning scheme is recognised in the prestigious Top 100 Apprenticeship Employers list for 2014.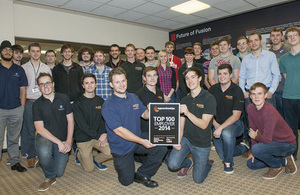 UKAEA runs an advanced four-year apprenticeship scheme at its research laboratory, Culham Centre for Fusion Energy. The Culham Apprentice scheme trains young people for careers as technicians and engineers and provides skilled staff to support our fusion projects.
The list was announced at the National Apprenticeship Awards, which took place during The Skills Show in Birmingham on 13th November. This is compiled annually by the National Apprenticeship Service in partnership with City & Guilds and recognises excellence in businesses that employ apprentices.
UKAEA recently won 'Large Employer of the Year' for the Culham Apprentice scheme in the Thames Valley regional awards in September.
Commenting on the company's entry in the Top 100 Apprenticeship Employer's list, David Martin, Operations Director of the UK Atomic Energy Authority, said:
To be included in the Top 100 Apprenticeship Employer list is a real honour and achievement, and brings formal recognition that our apprenticeship scheme delivers to high standards and that UKAEA invests in its advanced skills training.

We are prepared to go the extra mile to help their apprentices succeed, not to win awards but because we reap the rewards of this culture in the highly-skilled and productive technicians we have produced. Winning this award would not be possible without the hard work of our apprentices, training mentors, training provider, college and the backing from senior management.

The reputation of the UKAEA apprenticeship continues to grow and being a Top 100 employer supports our plans to deliver, with partners, to deliver, with our partners, an Oxford advanced skills training hub for the benefit of a wider pool of employers, including local SMEs.
Published 14 November 2014