News story
UKAEA Board visits STFC at Harwell-Oxford
The Board visited STFC facilities and learned of plans to develop Harwell-Oxford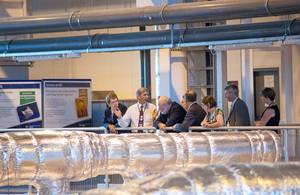 The UK Atomic Energy Authority (UKAEA) Board held its third meeting of the year at Harwell-Oxford, hosted by the Science & Technology Facilities Council (STFC). This is part of an ongoing programme for the Board to meet key collaborators. Sharon Ellis from Business Innovation & Skills, Knowledge & Innovation team also attended the meeting.
UKAEA and STFC are partners in a joint venture (JV) to develop Harwell-Oxford - a major science, innovation and business campus. The Board met with members of the JV and Angus Horner, MD of the new private sector partner, gave an overview of the masterplan for the site. This includes doubling the number of jobs and building a new innovation centre as part of the Oxfordshire City Deal.
The Board was also provided with a tour around three major STFC facilities at its Rutherford Appleton Laboratory:
ISIS - Prof Robert McGreevy provided an overview of pulsed neutron and muon experiments and tour of target station 2.
RAL Space - Prof Richard Holdaway gave a presentation on research & development.
Central Laser Facility - Dr Ric Allott provided an overview of the lasers and tour of fabrication facilities and the Vulcan laser.
Published 5 August 2014