World news story
UK welcomes Lebanese Education Minister
International Development Secretary reaffirms the UK's leadership in ensuring all children in Lebanon including refugees have access to quality education.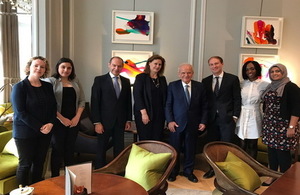 UK International Development Secretary Priti Patel welcomes Education Minister Marwan Hamade to London today as she reaffirms the UK's leadership in ensuring all children in Lebanon including a generation of Syrian children who have fled to Lebanon have access to quality education (Monday 16 October).
Minister Hamade's three-day visit follows the International Development Secretary's own trip to Lebanon in February this year, when she saw first-hand how UK aid is helping to deliver life-changing education for both Lebanese and Syrian refugee children.
International Development Secretary Priti Patel said:
The brutal, senseless and inhumane conflict in Syria has now raged for more than six years, with many innocent children murdered over that time. Those who have survived have suffered deeply and witnessed unimaginable horrors which have left a scar on their innocent lives.

I have seen for myself the transformative effect UK aid is having, ensuring a generation of children who fled to Lebanon are not denied their basic human right to an education. The UK has committed £160m for education in Lebanon over four years, helping Lebanon to get nearly 300,000 Syrian children into school.

The UK continues to lead the international response, standing by the pledges made at the London Syria Conference and working to accelerate enrollment in quality formal, non-formal and vocational education for all school-aged Syrian refugees.

I welcome Minister Hamade's visit to the UK. We are both committed to ensuring Lebanese as well as refugee children are getting the quality education they deserve, giving them hope for the future.
Minister Hamade's visit gives the ministers an opportunity to discuss Lebanon's progress in recent months and to share best practice for boosting teaching standards.
Before his departure Minister Marwan Hamade stressed the importance of coordination between Lebanon and Britain at all levels and he will discuss how UK aid is supporting Lebanese quality education.
Minister Hamade reiterated the historic relations between both countries, noting that the British government is one of the largest donors supporting education in Lebanon. He thanked British Ambassador Hugo Shorter, his team and the Department for International Development for the welcoming reception.
Commenting on Minister Hamade's visit to the UK, British Ambassador Hugo Shorter said:
We are proud that the UK is one of the largest education donors, the cornerstone of our partnership with Lebanon. DFID ministers have found their visits to Lebanon extremely useful, particularly school visits, commending the ministry's campaign to make education available to all out-of-school children.
In 2016/2017, the number of children who benefited from UK funding reached over 103,000. 400,000 vulnerable Lebanese and Syrian students are already receiving their education across public schools thanks to the partnership between the Ministry of Education and the international donor community. We want to ensure that 550,000 vulnerable Lebanese and refugee children are getting an education by 2020.
Every child has the right to an education, that is why the UK's strong partnership with Lebanese and international partners will continue to help ensure that all children in Lebanon are 'School Heroes'.
Published 16 October 2017