World news story
UK welcomes key UN agency's efforts to tackle Ebola
The International Atomic Energy Agency (IAEA) plays an important role in the global response to the virus through fast diagnosis equipment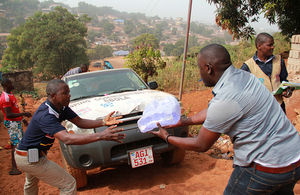 When the UN Secretary General called for assistance in tackling Ebola in September 2014, the International Atomic Energy Agency responded by providing specialised diagnostic equipment, the fastest diagnosis method for the Ebola virus available. Test results are available within 3-5 hours, rather than days with traditional methods, and are also 100 percent accurate. Unique contributions, such as this, have an important role to play in addressing global problems and are supported by the UK and other IAEA Member States.
The IAEA has so far provided specialised diagnostic equipment to Sierra Leone and has proposed strengthening the African region's capacity to diagnose zoonotic diseases (those that can be transferred from animals to humans), including the Ebola virus, and to establish Early Warning Systems. This demonstrates the important and unique role the Agency can play in meeting Millennium Development Goals MDGs and the post-2015 Development Agenda. According to the World Heath Organisation WHO around 75% of new diseases that have affected humans in the past decade have come directly from animals or animal products.
The UK has provided leadership and resources in the areas affected to contain and control Ebola and will remain a strong supporter of UN measures to prevent the spread of the virus.
Susan le Jeune d'Allegeershecque, UK Permanent Representative to the United Nations in Vienna said:
We welcome the IAEA's important work on providing specialised diagnostic equipment in order to tackle the spread of Ebola. This is a great example of peaceful uses of nuclear science and technology. We will continue to work actively with the Agency on a wide range of issues as part of the International Community's response to the disease.
Find out more about what the UK government is doing to combat Ebola.
General information
As part of its Technical Cooperation TC the IAEA, sometimes referred to as the 'Atoms for Peace' Agency, carries out specialist research and training. TC Programme Assistance is available to all IAEA Member States and covers areas such as health (animal and insect-transmitted diseases) agriculture and food security, water and the environment, energy and radiation technology including cancer treatment. For more information visit the IAEA website.
Published 23 January 2015