World news story
UK Visas & Immigration Lilongwe Visa Application Centre moves to a new location
From 28 November 2016, customers should attend their appointment at the new address.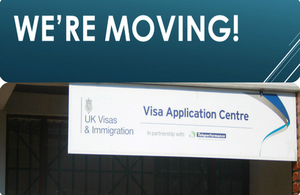 On 26 November 2016, UK Visas and Immigration's Visa Application Centre (VAC) in Lilongwe will move from City Centre in Teveta Building to new, more modern premises at Gateway Mall. Customers making a new application from 28 November 2016 should attend their appointment at the new VAC. From this date customers who have still to collect their application will now need to report to the new address.
The new visa application centre address is:
UKVI Application Centre
TLS Contact
Shop 71, the Gateway Mall
Plot 47/1202
Lilongwe
Malawi

Opening Date
Monday 28 September 2016
The British High Commission in Lilongwe does not deal with visas. UK visa customers will continue to complete their applications and pay their visa fee online at Visa4UK in exactly the same way as before, and choose an appointment at the TLS Contact VAC in Malawi.
The Visa Application Centre in Lilongwe will be open every week day between 0800 – 1500hrs. Customers will be able to make appointments to submit visa applications in Lilongwe between 0830 and 1430 Mondays to Fridays, and can collect their passports on any week day from 1200 – 1500.
As before, applications made in Lilongwe will be processed in line with UKVI's global customer service standards. All UK visa applications will continue to be decided by UK Visas and Immigration staff in a fair and objective process. Staff at the Visa Application Centre have no influence at all over the outcome of any visa application.
UKVI will continue to offer an extensive range of services to customers across Malawi, including access to premium and priority products such as the Priority Visa service where customers can fast track their application for an additional fee.
Published 25 November 2016