World news story
UK & UAE commit to a closer relationship on transport cooperation
UK Department for Transport and the Abu Dhabi Department of Transport yesterday signed a new Memorandum of Understanding (MoU)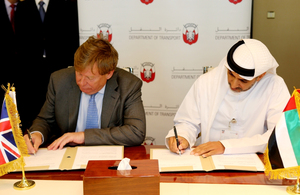 The MOU promotes strengthened cooperation between the two parties across a wide range of transport issues including road safety, parking, freight, and solutions. It also encourages greater business-to-business engagement between the two countries and acts as a generator for trade and growth.
The Rt Hon Simon Burns, UK Minister of State for Transport said:
"The signing of this Memorandum of Understanding, will improve the transport networks and prosperity of both countries. This will strengthen the cooperation across a wide range of transport issues and help promote best practice."
Chairman of the Abu Dhabi Department of Transport, His Excellency Abdulla Rashed Al Otaiba said:
"This MOU is a valuable milestone. I believe it represents an opportunity for the Abu Dhabi Department of Transport to further engage with British expertise for Transportation Planning and Development. High design standards and developments in transportation safety and research are key objectives for the Department of Transport."
Notes to Editors:
The Memorandum of Understanding was signed as part of a wider visit to the Gulf Region by UK Minister, The Rt Hon Simon Burns. The visit forms a part of the UK Government's broader trade and investment agenda. There is already significant business to business cooperation between the two nations, with UK companies such as Arup and Serco actively engaged in delivering transport solutions to the UAE. We want the UK to be the UAE's commercial 'partner of choice'. British business and expertise has much to offer the region. Given UAE's ambitious development plans the UK is committed to making it quicker and easier for British businesses and Gulf states to work together.
contact
Ruzina Hasan Telephone : +971 (0)4 309 4209 Mobile: +971 506249536 Email: ruzina.hasan@fco.gov.uk
Published 11 June 2013