UK Transport Minister visiting Taiwan
The UK Minister of State for Transport, Baroness Kramer, is visiting Taiwan on 26-27 January to further bilateral links in transport and infrastructure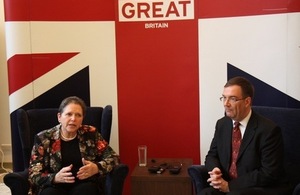 The UK Minister of State for Transport, Baroness Kramer, is visiting Taiwan on 26-27 January to further bilateral links in transport and infrastructure. This marks the highest-level visit to Taiwan by the UK's transportation authorities, leading the biggest railway outward mission ever to Taiwan with 14 companies and organisations. Her two day programme includes visits to Taipei and Taoyuan.
On 26 January, the Minister met Minister Chen Jian-Yu of Transportation and Communications (MOTC) to discuss co-operation between UK-Taiwan transport sectors on rail and airports. She also met Minister Hsu Chun-Yat of Public Construction Commission to talk about international standards on government procurement. Baroness Kramer also met Taipei City Mayor Ko Wen-je to discuss urban regeneration and smart city planning as well as public transport safety issues. The UK Minister congratulated Mayor Ko on winning the recent election and was keen to understand Mayor Ko's priorities to make Taipei City a better city. She will exchange views later today with Minister Wei Kuo-Yen of Environmental Protection Administration on developing an ultra low emission vehicle industry.
Earlier today, Minister Kramer spoke at the UK-Taiwan Railway Seminar hosted by the British Trade & Cultural Office and MOTC. She also witnessed the signing of one MOU on industry collaboration between Taiwan and the UK railway associations, and one Letter of Intent on railway training plans for Taiwan. The seminar brought together 14 UK experts and over 150 professionals from Taiwan's transportation industry and relevant government departments to discuss topical issues and business opportunities.
UK infrastructure companies are known for their world-class standards and global reach. Many of them have participated in projects in Taiwan including High Speed Rail, Kaohsiung Metro, Taipei Metro and Taipei City to Taiwan Taoyuan (TTY) Airport Link. To acclaim British companies' quality services achieved in Taiwan, the UK Minister Kramer also visited the TTY Airport Link stations in Taoyuan and Taipei. This project demonstrated UK-Taiwan cooperation involving UK companies' joint efforts from Siemens Rail Automation, Lloyd's Register Rail and Mott MacDonald.
Baroness Kramer said: "The UK's relationship with Taiwan has never been closer. We already share bold plans and strong policies in transport and innovation in technology, and UK companies continue to forge close ties with Taiwanese businesses.
We are investing heavily in our national infrastructure to build a stronger economy and fairer society at home. This will create new jobs and many opportunities for businesses to capitalise. I look forward to much closer collaboration which will bring further opportunities to both sides."
During her trip, Baroness Kramer will also meet key Taiwanese investors in the UK and major British businesses based in Taiwan.
The Memorandum of Understanding (MOU) was signed between Taiwan's Railway Engineering Society of Taiwan and UK's Railway Industry Association. The Letter of Intent was signed between China Engineering Consultants, Inc. and UK's National Rail Engineers Skills Academy.
Published 27 January 2015