World news story
UK Trade & Investment organises 10th security and defence technology exhibition
The exhibition showed the benefits British businesses can bring to Belgium while supporting the UK economy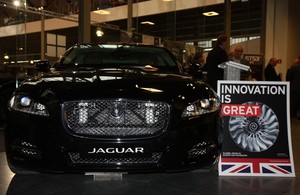 During the exhibition on 28 February 2013 at Autoworld Brussels, a record 42 British companies were able to show innovative technology in critically important areas such as crime and policing, defence, cyber security and counter terrorism. These are all areas which make the lives of our citizens safer, in the UK, in Belgium, and across the world.
British Ambassador to Belgium Jonathan Brenton said:
It is great news for Belgium and the UK to have a record number of companies presenting their work here today. Exports enhance our bilateral relationships by providing an economic link between our two countries while helping keep Belgium safe. For example, it is great to know that a British company, Hawk Protection, has been supplying body armour for the Belgian police since 2004!
The exhibition showed again that the UK's security sector is one of the most diverse and technically advanced in the world, consisting of small and medium enterprises producing extremely innovative solutions. In 2011 for instance the UK exported £8 billion of defence and security goods and services, gaining 15% of the world defence market.
Published 1 March 2013