World news story
Transport solutions seminar in Philippines showcases UK expertise
UKTI Manila's seminar promotes UK capabilities in rail, airports, road equipment, logistics and e-vehicle technologies.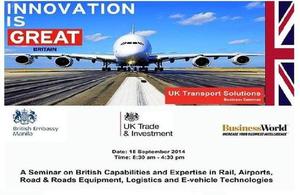 UK Trade & Industry (UKTI) held a transport solutions seminar on 18 September 2014. This seminar aimed to help UK companies find out more about the procurement opportunities relating to current and pipeline mass transport projects in the Philippines.
Transport opportunities
There are a number of projects in the Philippines where there are opportunities for UK companies. These include:
Laguna Lakeshore Expressway Dike £1.69 billion
Expansion and modernization of airport projects £1.52 billion
Mass Transit System Loop £1.91 billion
North-South Commuter Rail Line £954 million
Integrated Roll-On, Roll-Off (RORO) System £774 million
There are also many other projects including Ligh Trail Transit (LRT) extension, Metro Manila Expressway, Laguna Lake Ferry System, Mass Transport System, Road Transport IT Infrastructure among others.
Seminar
The seminar was attended by 9 British companies who gave presentations on their capabilities in the transport sector. There were also around 50 participants composed of executives of local conglomerates and the media.
High level government officials also gave presentations on the Philippines' transport agenda and related projects on rail, airports, roads, and logistics.
Eight Presentations are available from participating organisations at the seminar. They are:
Contacts
Contact UKTI Manila for more information on opportunities in the Philippines.
Published 10 October 2014