UK trade envoy to Egypt and CEO of UK Export Finance in Cairo
UK trade envoy to Egypt and CEO of UK Export Finance arrive in Cairo to strengthen trade between the UK and Egypt.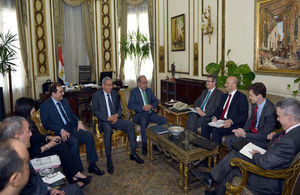 On 17 July, UK trade envoy to Egypt Sir Jeffrey Donaldson MP and the CEO of UK Export Finance Mr Louis Taylor arrived in Egypt to strengthen trade and investment ties between the UK and Egypt.
The visit comes as London creates a new Department for International Trade to drive a major expansion in global commercial ties for the United Kingdom as it exits the European Union in the coming years.
The programme will include a series of meetings with Egyptian business leaders, as well as high-level Egyptian officials including HE PM Sherif Ismael, Minister of Trade and Industry Mr. Tarek Kabil, Minister of Military Production General Dr. Mohamed El Assar, and Minister of Investment, Dr. Dalia Khorshid and Minister of Petroleum Tarek Molla. Among the key economic projects that the delegation will view are the Suez Canal Economic Zone, the Tahrir Petrochemicals project in Sokhna, Smart Village and a number of locations in Alexandria.
Discussions will include how to expand trade and investment ties as Britain takes back control of its trade policy, after 43 years of trade policy led from Brussels.
Sir Jeffrey Donaldson MP said:
I am delighted to be back in Cairo at a time when there is significant interest in trade between the UK and Egypt. The past few months have seen many enquiries from British Companies wishing to do business in Egypt and their interest highlights the significant opportunities that are available across a range of Egyptian commercial sectors. I am looking forward to meeting senior Ministers in the Government as well as Egyptian business leaders to discuss how we can maximise these opportunities and strengthen the British-Egyptian bilateral trade relationship.
Sir Jeffrey is accompanied on the visit by the CEO of UK Export Finance, Louis Taylor. UK Export Finance is the UK's export credit agency and has finance available for projects in Egypt. It supports the UK's export economy by providing finance and insurance to GREAT British companies who want to do business overseas. It helps exporters win, fulfil and ensure they get paid for export contracts. Find out more about UKEF's products.
Mr Taylor comes to Egypt with the promise that UK Export Finance can underwrite prospective UK-Egyptian trade deals worth 100s of millions in financing or insurance, money that could directly help the Egyptian government or businesses gain access to world-class good and services provided by British companies.
Louis Taylor said:
There are huge opportunities in a stronger bilateral trade relationship between the UK and Egypt, and it gives me great pleasure to be here helping to build these economic ties. The UK is a global leader in many of the sectors for which Egypt has greatest demand, including transport and infrastructure, and UKEF can help Egyptian buyers access UK goods and services through its innovative, flexible and competitive financing terms.
British Ambassador John Casson said:
Britain's interest is in helping Egypt build a strong, dynamic economy that provides jobs and opportunities for all Egyptians. We are proud to be Egypt's biggest investor and of our trade worth over £1.5bn per year. But we are hungry for more and to seize the opportunities that Brexit will give us to forge new opportunities. At a time of major change in both Britain and Egypt, our economic relationship is the engine that will power our future success. UK Export Finance's commitment to fund trade deals worth 100s of millions shows that the UK is willing to put its money where its mouth is. Diplomacy needs action not just words.
Photo Credit: Soliman AlOteify
Published 17 July 2016