World news story
UK trade envoy set on driving forward UK-Egypt business
UK trade envoy set on driving forward UK-Egypt business as UK company signs $350m energy deal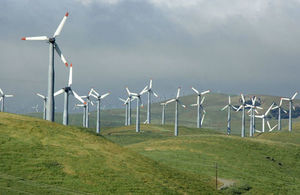 Jeffrey Donaldson MP, Prime Minister David Cameron's trade envoy to Egypt, has pledged to continue driving forward UK-Egypt business as he witnessed Minister of Electricity Mohamed Shaker and British company Actis sign a significant Memorandum of Understanding (MOU) worth $350m.
The deal will allow Lekela Power, a $1.9bn pan-African renewable power generation company 60% owned by Actis, to build a new 250 MW wind power station in the Gulf of Suez area. The remaining 40% of Lekela Power is owned by Mainstream Renewable Power.
The project will be Lekela Power's third project in Egypt. The company has invested over $700m in Egypt to date.
Donaldson said:
I am delighted to witness this new deal that will see a great British company bring its world-class expertise, create jobs and opportunities here in Egypt, and benefit this country.
This week, I have met Ministers and businessmen, investors and entrepreneurs, British and Egyptian. I have come away even more convinced that partnerships with British businesses offer Egypt unique opportunities. Whether in energy, infrastructure, or education, British companies can play an important role in supporting Egypt's economy and creating jobs and opportunities for its people - vital for the wider long-term change that we all want to see in Egypt.
I am determined to continue the work begun this week and to drive forward UK-Egypt business to even higher levels.
Published 14 February 2016