World news story
UK Trade Envoy explores UK business co-operation in Laos
Lord Puttnam promotes UK-Laos business opportunities during third official visit to the Lao PDR.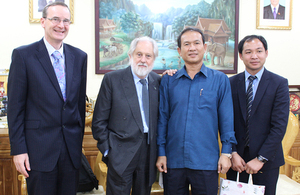 The UK's Trade Envoy for Cambodia, Laos, Vietnam and Burma, Lord Puttnam met the President of the Lao National Chamber of Commerce and Industry (LNCCI), Mr. Sisavath Thiravong on Friday to discuss UK trade and investment interests in Laos. Following the meeting, LNCCI senior management joined Lord Puttnam and the British Business Group in Laos – a loose grouping of leading British investors in the country – for a working lunch to hear directly from the British business community about opportunities in Laos and some challenges of operating within the Lao market.
Continuing with a business focus, later in his visit Lord Puttnam made the opening address at a Corporate Social Responsibility (CSR) event with the European Chamber of Commerce and Industry in Laos (ECCIL). Drawing on the UK's experience in CSR, Lord Puttnam emphasised how businesses can play an important role in the social and economic development in Laos.
The British Business Group was created on the initiative of the British Embassy Vientiane in April last year as a forum for networking and exchanging information on the business climate in the Lao PDR. UK goods exports to Laos increased by approximately 20% to £3.98m in 2013, compared with the previous year. Lao exports to the UK increased by 9% to £42m over the same period.
The largest UK investor in Laos is currently Imperial Tobacco, which owns a minority stake in Lao Tobacco. Other popular British brands include Land Rover and Range Rover cars, JCB construction vehicles (both franchised through RMA group), and financial services companies such as Standard Chartered Bank, KPMG and PwC.
Published 20 October 2014