World news story
UK Trade and Investment Minister arrives in the UAE to launch GREAT Week UAE
From:

Part of:

Published:

16 March 2014
This was published under the 2010 to 2015 Conservative and Liberal Democrat coalition government
UK Minister for Trade and Investment visits the United Arab Emirates (UAE).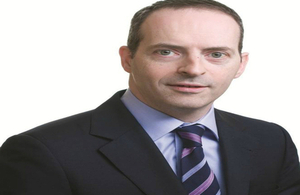 The UK Minister of State for Trade and Investment, Lord Livingston has today arrived in the UAE to launch 'GREAT Week UAE'. As part of GREAT Week, over 40 British companies from the retail, luxury and design industries will be showcasing their world-leading products to a UAE audience. Some of these – including the quintessentially British Fortnum and Mason and Lulu Guinness will be launching in the UAE during the week.
Through a range of high profile receptions, briefings, exhibitions and networking events, the UK firms will make important contacts with key UAE players in retail and design to support the growth of their increasing global demand. The week will also include a Fashion Show co-hosted by the British Embassy and House of Fraser – another British retail favourite that recently opened its first international store in Abu Dhabi.
The UK is a global leader in retail, design and luxury goods, and is home to outstanding skills and talent. As the UAE develops its creative industries, there are increasing opportunities for creative collaboration with the UK, which 'GREAT Week UAE' will help to realise.
During the visit Lord Livingston will also visit the site of the new UK-Dubai Business Centre. Once opened, the centre - housed at the Department for Economic Development - will transform the quantity and quality of support available to small and mid-sized UK firms looking to succeed in the UAE.
Lord Livingston will also be the keynote speaker at UK Trade and Investment's flagship networking conference, Britain in the Region on Monday 17 March at the Grand Habtoor Hotel. The networking event comprises a mix of business workshops, panel discussions and one-to-one meetings on opportunities across the MENA region and will present business opportunities to UK firms-both now and over future years.
Trade and Investment Minister Lord Livingston said:
I'm delighted to be visiting the United Arab Emirates for the first time as Trade and Investment Minister. British companies remain at the cutting edge of global creativity which makes us a natural partner for this vibrant trading nation. British firms are experiencing increasing global demand and want to succeed in the Gulf. That's why I am launching GREAT Week UAE to put UK companies in the spotlight and increasing our support for small and mid-sized businesses exporting to the region with two new British Centres for Business in Dubai and Abu Dhabi.
Notes to Editors:
GREAT Weeks is a programme of trade missions from the UK for the creative, retail, luxury, food and drink sectors. Organised by UK Trade and Investment in collaboration with industry experts in some of the world's fastest growing markets, GREAT Weeks equip British businesses with the support they need to export overseas. Attendees benefit from gaining access to key decision makers, major buyers and potential partners in a range of countries. Each visit allows UK companies to build long term relationships and engage in high-level discussions. GREAT Weeks also run in parallel within high-profile events in the region, such as fashion shows or festivals. To find out more, visit GREAT WEEKS.

GREAT Week is part of UK Trade and Investment's (UKTI) desire to increase business with the UAE. Our two countries have committed to increasing bilateral trade to £12billionn/ AED 73billionn by 2015.

UKTI is the government department that helps UK-based companies of all sizes succeed in the global economy, providing them with the tools they require to be competitive on the world stage. We help businesses grow through international trade, offering expertise and contacts through our extensive network of specialists in the UK, and in British embassies and other diplomatic offices around the world. We also help overseas companies bring their high quality investment to the UK's economy – acknowledged as Europe's best place from which to succeed in global business. For more information on UKTI or visit the online newsroom at UKTI.
Contact for this Press Release:
Ruzina Hasan, Press & Media Officer British Embassy Dubai Email Tel: +971 (0)50 624 9536