World news story
UK-Tanzania ties in the education sector become stronger
Minister of Education, Science and Technology, Prof. Joyce Ndalichako attended the Education World Forum in the UK.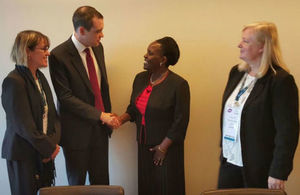 Tanzanian Minister of Education, Science, Technology, Professor Joyce Ndalichako yesterday met the UK's Department for International Development (DFID)'s Parliamentary Under Secretary of State, James Wharton, to discuss how best the UK can continue to support education in Tanzania.
The Head of DFID Tanzania, Vel Gnanendran said:
Education is key to realising Tanzania's tremendous potential and unlocking the dreams of young people. That is why the UK is continuing to invest in our partnership with the Tanzanian government, aimed at bringing a quality education to all Tanzanian children.
One area of particular interest identified was special needs in education. The ministers agreed the UK would provide technical support to help map out possible actions to benefit children with special needs in Tanzania.
Prof Ndalichako is in the UK attending the Education World Forum which brings together ministers and education specialists from around the globe to debate future education policy.
The UK has a long and strong relationship with the education sector in Tanzania. So far 500,000 Tanzanian children have been supported through primary and lower secondary education by DFID and 35,000 teachers have received professional development support. The UK is investing over £150m (around Tsh 424 billion) in education over an eight year period (2013- 2020).
In September last year, DFID stepped in with an additional £2.2 million to help rebuild the earthquake damaged Ihunga Boys and Rugambwa Girls Secondary Schools in Bukoba. British High Commissioner Sarah Cooke with Head of DFID Tanzania, Vel Gnanendran, laid the foundation stone for the rebuild on New Year's Day this year with President Magufuli.
Document information
Published: 25 January 2017