World news story
UK Sustainable Railway Mission visits Taipei
UK Sustainable Railway Mission in Taipei to share innovative development on railway industries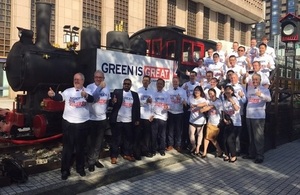 A UK sustainable railway mission is visiting Taiwan from 17 to 18 November 2016 to promote UK's capability in operating and maintenance traditional railways. Led by Lord Faulkner, the UK Prime Minister Trade Envoy to Taiwan, this is the biggest railway outward mission ever to Taiwan. It comprises seventeen companies and organizations which are all part of the "Green is GREAT" campaign launched by British Office on Earth Day this year.
The UK railway industry provides strong consultancy, signalling, track equipment, maintenance equipment, and railway certification such as IV&V (independent verification and validation) to the Taiwan railway sector. During the two-day visit, the delegation will attend three workshops organised by the British Office with the Taiwan Railways Administration(TRA), the Department of Transport of Taoyuan City, and the Taipei City Government Department of Rapid Transit Systems, respectively to demonstrate the UK's expertise in upgrading and renewing railways through whole life cycle procurement, asset management and maintenance projects.
The UK companies shares their experience at workshops on integrated infrastructure, engineering railways from legacy to new systems and smart maintenance, fixed infrastructure asset monitoring concept and management, remote condition monitoring solution as well as share the UK experience in the challenges of supply chain in railway operations.
Lord Faulkner was invited to deliver the opening remarks today at the UK Sustainable Railway Workshop with Taiwan Railway Administration. He said: "The Railway Industry Association has been working closely with Department for International Trade since 2003.Through the workshop, UK companies are able to introduce the concept of sustainable railway and the importance of "whole life cycle costing" to TRA as part of their procurement planning. We hope to use a theme of traditional railway development to generate more business exchange between the UK railway experts to work with Taiwan mainline authorities."
The UK's railways form a dynamic national business, contributing £9.3 billion a year to UK economy. The infrastructure companies are known for their world-class standards and global reach, which offer a range of components for trains, track, electrification, signalling and civil engineering. Working with the UK rail operators and Network Rail, the UK companies are familiar with ways to deliver whole life cycle cost concepts in all their services and products.
Taiwan's mainline railway has been in operation for 129 years and the Taipei metro for 20 years. With faster trains in place and smart rail technology, there will be further opportunities related to major maintenance work for the existing railway network, such as signalling upgrades, intelligent railway solutions and training of railway personnel. In addition, the Taiwan authorities have announced ambitious plans to build six new metro lines and to undertake major upgrades to the traditional railway (mainlines) by 2030. The UK railway industry looks forward to cooperating with Taiwan more in the near future.
More information
Lord Faulkner was assigned by UK Prime Minister to be the first UK Trade Envoy for Taiwan in January 2016.

Linked to climate, sustainability and business, the "GREEN is GREAT" campaign was launched by British Office on Earth Day this year for a greener life, both as individuals and as organisations. This campaign lines up various planned activities from Earth Day until January 2017.

The 17 UK companies are: Balfour Beatty Rail Technologies, Camlin Rail Ltd, Dynex Semiconductor Ltd, Faiveley Transport Birkenhead Ltd, Foster and Partners, LPA Group Plc, Rex Clement Ltd, Ricardo Rail Asia, Railway Industry Association, Siemens Rail Automation, British Steel, Tracsis Plc, Unipart Rail, Voestalpine SIGNALING, Xrail Group, Zaha Hadid Architects, and Colas Rail.
Published 17 November 2016