World news story
UK supports municipalities coping with the Syria refugee crisis
This was published under the 2010 to 2015 Conservative and Liberal Democrat coalition government
The UK funds a project supporting Lebanon's municipal responses to vulnerable hosts and Syrian refugees nationwide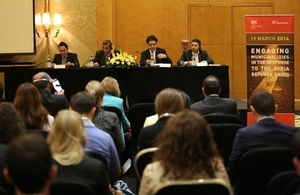 As part of the UK's continued commitment to respond to the ongoing Syrian humanitarian crisis, British Ambassador to Lebanon Tom Fletcher attended a conference organised by Mercy Corps, under the patronage of PM Tammam Salam, with the participation of the Ministry of Interior and Municipalities and the British Embassy Beirut.
Present was Minister of Environment Mohamad Mashnouk representing Prime Minister Tammam Salam, General Elias Khoury representing the Minister of Interior and Municipalities, and representatives from the 12 municipalities in the Beka'a, the North and the South, that have benefitted from the project. Representatives from embassies, local and international organisations and other Lebanese government departments working on the Syrian refugee crisis, were also present.
The project entitled: 'Syrian Refugees in Lebanon: Capacity Building for Municipal Responses', is aimed at assessing municipal responses for refugees and host communities and ways for donor agencies, organisations and national government to strengthen their support. Moderated by former Interior Minister Mr. Ziyad Baroud, a panel discussion was held with two heads of municipalities from Deir Nbouh and Bourj el Shamale, as well as policy analyst Sami Atallah from the Lebanese Centre for Policy Studies.
In his opening remarks minister Mohamad Mashnouk welcomed the initiative, pointing out that the national commitment towards providing assistance to Syrian refugees has not decreased, despite the heavy burden and mounting pressures. He praised the work of municipalities and reiterated the government's continued support to assist them further.
Speaking on behalf of the Ministry of Interior and Municipalities General Elias Khoury described the assistance that the central administration is offering to municipalities with respect to support, training, as well as coordination to avoid duplication of projects implemented through grants.
British Ambassador Tom Fletcher said: "It is Lebanese communities who are bearing the greatest burdens in responding to the influx of Syrian refugees. They have done so with extraordinary generosity. An increasing proportion of our £600 million contribution to the humanitarian response will go to these communities. We want to show we are on their side. This project helps us to understand where the needs are greatest. We encourage all partners to respond generously."
Mercy Corps' Country Director, Mr. George Antoun explained, 'As we approach the third year of the Syria refugee crisis in Lebanon, we must reflect on what we have done right, as well as how we can improve our response. Municipalities are on the frontlines and we must improve our engagement with them to improve the overall national response and reach more sustainable solutions'.
For his part, Mr. Ziyad Baroud said: 'At the start of the Syria crisis, Lebanese municipalities were requested to assume responsibilities and respond to refugee needs. At this critical juncture it is essential for all actors to collaborate with municipalities to provide immediate support that will help resolve the challenges of the refugee crisis, and simultaneously strengthen Lebanon's host communities'.