World news story
UK supports MAG operations in Lebanon
UK is supporting MAG in Lebanon to update the National Landmine and UXO Contamination Survey for Lebanon, in partnership with the LAF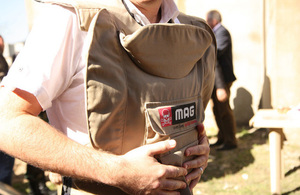 British Ambassador to Lebanon Tom Fletcher visited a minefield marking and de-mining operation of the Mines Advisory Group (MAG) Lebanon in the village of Deir Dourit in the Chouf region. He was accompanied by Lord Michael Williams, newly appointed Chairman of the Mines Advisory Group, as well as MAG Chief Executive Officer, MAG Regional Operations Manager and MAG Lebanon Country Director. Brig. Gen. Imad Odeimi from the Lebanese Armed Forces Lebanon Mine Action Centre (LMAC) accompanied by a delegation was also prsent.
Ambassador Fletcher saw firsthand the UK's contribution in assisting MAG Lebanon and the LMAC in marking high risk areas of contamination, as well as techniques for UXO clearance.
At the end of the visit Ambassador Fletcher said:
'Lebanese children and landscapes have been ripped apart for too long by landmines, cluster munitions and unexploded ordnance left over from the civil war and the last Israeli invasion. With MAG and the Lebanese Army, we are mapping where these disgraceful weapons remain. We are also marking minefields, removing mines and educating people about the threat. This will help to protect Lebanese residents, and Syrian refugees.'
Notes to Editors
The $500,000 project is funded by the Conflict Pool Programme of Her Majesty's Government.
The project focuses on updating contamination survey data, demarcating minefields unmarked and cluster bomb sites and delivering Mine Risk Education to Lebanese residents and Syrian refugees living near high risk areas.
The UK has been one of the main donors to MAG and LMAC in Lebanon for many years. In 2007, the UK gave £2.7 million to help remove 90,000 cluster bombs left by the Israeli army near homes and farm areas.
For more information about MAG operations in Lebanon you can visit: MAG
Published 5 February 2014