World news story
UK supports Freedom of Expression in Cameroon
The British High Commission in Cameroon organizes first ever Investigative Journalism Award with co-funding from the US Embassy in Yaounde.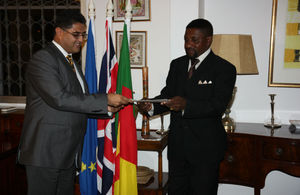 The three laureates include Chi Sebastien of french daily, Mutations who wrote on corruption in the forestry sector, East of Cameroon " La corruption dans le secteur forestiere à l'est". In his article he painted an image of how corruption is depriving the nation of colossal incomes from the mainly forestry region. Sebastien emerged first in the competition taking home an HP Laptop and the sum of FCFA 500.000. The second prize went to Mbi Clementina of Abakwa FM, North West region of Cameroon. Her human rights article was on the theme "The violation of widows rights in the North West region". The 3rd laureate was Ngala Killian Chimtom of CRTV Yaounde with his human rights article on "Gay rights in Cameroon".
The themes for this maiden edition of the Investigative Journalism Award by the British High Commission, also co-funded by the US Embassy in Yaounde focused on Human Rights and Corruption in Cameroon. Speaking during the award ceremony at His Residence, Her Majesty's Representative H.E Bharat Joshi spoke firmly on the need to have a nation practicing responsible journalism. "The Investigative Journalism Award is part of the Mission's wider programs of supporting freedom of expression in Cameroon to deliver transparency, good governance- including the fight against corruption – and support Cameroon's march towards an emerging economic status by 2035. These awards support one of our Prime Minister's three priorities as chair of the G8: Promoting transparency- the others being increasing global trade and introducing fairer tax regimes."
On his part, US Ambassador, Robert P. Jackson shared a few thoughts about the values of a free and professional media in a country's democratization. He acknowledged progress towards freedom of expression thus far in Cameroon and concluded: "undoubtedly, there is still much to be done…"
The investigative Journalism Award was implemented by the Cameroon chapter of the Commonwealth Journalists Association (CJA) with HRH Chief Nkemanyang Paul Foanyi as head.
Published 7 June 2013