World news story
UK supports Child Protection in Laos
British Embassy supports workshop to strengthen Lao capacity in Child Protection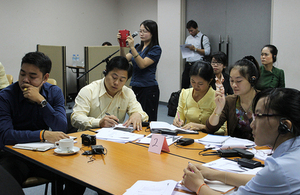 The British Embassy in Vientiane this week partnered with the Lao National Commission for Mothers and Children (NCMC) to host a three-day workshop to further strengthen capacity in Laos to deal with cases of child abuse.
Led by the UK's Child Exploitation and On-line Protection Centre (CEOP) – a command of the UK's National Crime Agency, the workshop entitled Achieving Best Evidence from interviewing child victims of sexual exploitation was developed in conjunction with the NCMC and is in direct response to the Lao government's Plan of Action on Violence against Children 2014 - 2020.
Coinciding with the UK's hosting of the first ever Global Summit on Child Online Sexual Exploitation on 9 – 11 December 2014, the training held in Vientiane focused on Achieving Best Evidence (ABE) interviewing for children, a recognised technique in how to interview child victims of sexual exploitation to get the best evidence for use in a court of law. The workshop also examined preliminary findings as well as relevant case studies from Laos' first ever survey and in-depth research into violence against children in the Lao PDR recently undertaken by UNICEF.
British Ambassador Philip Malone to the Lao PDR said in his opening speech:
The sexual exploitation and abuse of children is a sad reality in today's world and no country is immune. Given the nature of this crime, and it is a crime, it often goes unreported as victims are either too afraid or too ashamed to tell anyone who might be able to help. The rapid growth in the internet and the opportunity it provides for on-line exploitation of children may exacerbate the problem

It is therefore vitally important those investigating crimes of child sexual exploitation and working closely with child are equipped with the right techniques to properly investigate those crimes and bring the perpetrators to justice, while at the same time providing protection and counselling to the victims.
Last year, the British Embassy Vientiane partnered with NCMC and CEOP to deliver a week-long series of initiatives on child protection to safeguard children in Laos both on and off line.
CEOP is the UK's law-enforcement led child protection organisation, dedicated to protecting children from sexual exploitation and abuse. CEOP has worked with countries in Southeast Asia for a number of years to enhance national and regional capacity to identify, prevent and deter the sexual exploitation and abuse of children. This has been achieved through multi-sector partnerships and effective awareness-raising, in both the real and online worlds.
For further information on the work of CEOP, visit their website
Published 9 December 2014