World news story
UK Support to Women Peace and Security Agenda in Macedonia
British Defence Section Skopje supports programme on developing National Action Plan for implementation of UNSCR 1325.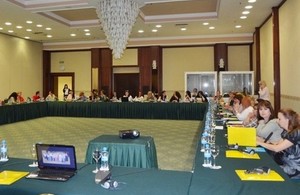 Increased engagement of women in decision-making processes in line with the UN Women Peace and Security Agenda in Macedonia was the central topic of the debate hosted in Skopje as part of our programme support to reaffirm the important role of women and their full inclusion in efforts to maintain and promote peace and security.
Women leaders from different political parties in Macedonia gathered to jointly discuss and initiate a platform for issues of joint interest for future actions. The debate was also attended by representatives of the Macedonian Labour Ministry. The diversity of the debate helped to foster the dialogue and cooperation between women leaders within political parties to recognise the Women Peace and Security Agenda as their duty in policies development.
Our Defence Attaché Lt Col Richard Parry spoke at the event and said:
Enhancing women's role in security in line with UNSCR 1325 and creating common strategy and cooperation among different parties and political actors is very important as it contributes to good governance. We support the Macedonian security and defence sector on its path to NATO, by building military capacity, strategic advice and providing expertise to assist build capacity of the Macedonian defence sector. With this programme we want to accomplish the mission about the increased role of women in societal processes.
Work on this programme turned into great success by helping facilitate the development of a strategic paper with the Ministry of Labour and Social Policy, Ministry of Interior, the Ministry of Defence gender focal point and the Army of the Republic of Macedonia. The work will become the National Action Plan for implementation of UN Resolution 1325.
The project was implemented by the Macedonian Women's Lobby from the autumn of 2015 until the spring of 2016 through the British Embassy programme support.
Connect with us on Facebook or follow us @ukinmacedonia
Connect with the British Ambassador on Facebook or @BritAmbCGarrett
Read our blog UK in Macedonia
Published 6 June 2016