World news story
UK support to the Public Affairs Regional Centre in Macedonia
British Embassy supports media training courses for NATO and partner countries in Macedonia.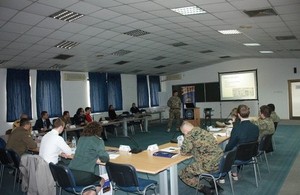 On 19 November in Skopje our Defence Attache Lt Colonel Richard Parry joined the participants at the media training course at the Public Affairs Regional Centre which is located within the Macedonian Ministry of Defence. In the course of this media training Captain Peter Singleghurst from the UK Joint Media Operations Centre held a lecture on Media and International Operations, sharing practices of the British Armed Forces in the principles and ways of working with the media.
Participants at the course in the period of 17-21 November come from Macedonia, the Western Balkans region, as well as Ukraine and Finland. During the five-day training they will learn and exercise on working with media and expanding knowledge in the area of public affairs.
The Defence Attache Lt Col Richard Parry addressed the participants and shared his experience on working with media in international operations, drawing on his experience. He also underlined the importance of training and wished success for further development of the enthusiastic participants.
The contributions to these trainings are part of the overall efforts that the UK provides to Macedonia in the area of defence cooperation and the NATO reform agenda of Macedonia. The Public Affairs Regional Centre in Macedonia currently cooperates with the countries in the region and remains open for any NATO member or partner countries. It is a member of the NATO community of Partnership Training and Education Centres.
Read more about UK and Macedonia defence cooperation.
Connect with us on Facebook or follow us @ukinmacedonia.
Read our blog ukinmacedonia.
Published 19 November 2014