World news story
UK support to Lebanon's security agencies
Ambassador Shorter inaugurates VTC room part of the UK's support to improve cooperation and coordination between Lebanese security agencies.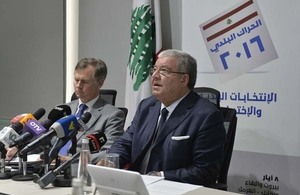 In support of the ongoing partnership with Lebanon and the UK's investment in the country's security services and their capabilities, British Ambassador Hugo Shorter and Minister Nohad Machnouk inaugurated a Video Tele Conference (VTC) room at the Ministry of Interior – co-funded by the British Government - in the presence of Generals and officials.
The aim of the VTC system is to enable the Ministry to coordinate operational responses of different security agencies and to exchange information between members of the Central Security Council. It will link the Ministry of Interior with the Internal Security Forces, General Security, the Lebanese Armed Forces (Ministry of Defence), Beirut International Airport and the Department of Civil Defence. The room was named after the late Brigadier General Wissam El Hassan, former Head of the Internal Security Forces Intelligence- Oriented Information Branch, who was assassinated in October 2012, in the presence of his father.
British Ambassador Hugo Shorter said:
I am very pleased to be here today to inaugurate the Video Tele Conference room (VTC) room. It demonstrates again the UK's continued practical support for the institutions of the state charged with protecting Lebanon's security – and for improving coordination between them. Your visit to London in March moved the security partnership between our countries to a new level. I also welcome the fact that this facility is being used to manage secure and free municipal elections. Over the past weeks it has been great to see the energy in the country in the run-up to municipal elections and it's good to see real competition taking place in many municipalities, with local issues that matter to people's daily lives taking precedence. I look forward to the successful holding of the elections, and also to continuing our work delivering projects in close partnership with municipalities throughout the country. Thank you your Excellency and to your colleagues for our continued productive partnership.
Interior Minister Nohad Machnouk thanked the British Government for its continued support to Lebanon and said:
I chose the dates of the municipal elections to open this room because democracy accomplishes justice. And there is no democracy without institutions or an active state, protected not only by arms but by success and example. This room is a clear example of what I have been working on since taking up my position at the ministry, which is all about reinforcing and developing technical and electronic capabilities for the security agencies.
The project comes under the UK's continued support to improve cooperation and coordination between Lebanese security agencies and their capabilities.
Published 6 May 2016