World news story
UK strongly supports Lebanese host communities
British ambassador Hugo Shorter visited Zahle and saw first-hand UKAid support to Lebanese host communities.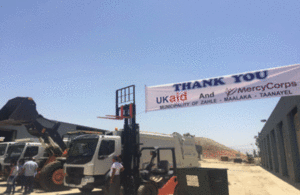 With actions and not just words, the UK continues to deliver on its support to Lebanon. As part of our ongoing support to Lebanon's prosperity, British Ambassador Hugo Shorter paid his first official visit to Zahle in the Bekaa, to witness first-hand the results of UK-funded projects and hear from Zahle's officials about the current situation.
Ambassador Shorter visited Zahle's Waste Sorting Facility and met with participants and partners from Mercy Corps' INTAJ waste management and job creation project to see how UK Aid is supporting and responding to vulnerable Lebanese communities' needs across North Lebanon and the Bekaa.
By creating jobs and identifying economic opportunities INTAJ is working across 3 levels: skills training for individuals; supporting small and medium sized enterprises (SMEs); and working with communities to support the development of solid waste management and recycling.
Thanks to skills training, 87 people (from the North Lebanon and Bekaa) who had no jobs are now working and supporting their families with 147 more trainees expected to be hired by July 2016. Mentoring SMEs to increase efficiency, the programme has so far helped 21 businesses create 33 new additional jobs, while support to municipalities in solid waste management and recycling has created 40 new jobs so far and benefitted over 80,000 households across Lebanon. In Zahle INTAJ has helped improve the performance and efficiency of the existing waste processing line, benefitting local residents and creating 25 new jobs, with more planned soon. These projects complement the Lebanon Host Communities Support project supported by UK Aid and delivered by UNDP and the Ministry of Social Affairs to build the capacity of Lebanese communities most affected by the Syria crisis.
He also toured Aggreko Ltd, the world-leading UK firm behind Zahle's famous 24/7 electricity success. Aggreko signed an agreement with Electricite De Zahle a year ago to operate a 40MW power plant.
At the end of his visit Ambassador Shorter paid condolences to the families of those killed and injured in this morning's suicide attacks in Al Qaa and said:
I had a fascinating visit to Zahle and have learned a lot about its rich history. I'm proud to see how the UK is reaching out across the country in support of Lebanon's economy through UK Aid funded projects and British businesses like Aggreko. It's heart-warming to hear about the positive impact this project has had on people's lives here in Zahle. One trainee even told me: ''I was afraid I won't be able to continue my education because of financial difficulties. Now I can do both, work and continue my education''.

I'm pleased that the UK is working with Lebanon on opportunities that will make a real difference to people's everyday lives through our strong and longstanding relationship. You have heard about the results of the EU referendum in the UK. A political process will determine the way forward. The UK continues its commitment to Lebanese stability and security, as we remain strong supporters of the Lebanese Armed Forces, the Lebanese State and municipalities coping with the consequences of the Syrian crisis.

He also met with Archbishop Issam Darwich, Zahle's Parliamentary Bloc MPs, Mayor Asaad Zgheib, municipality members and Miryam Skaff to gain insight into the local situation.
Notes to editors:
From September 2015 to March 2016, INTAJ successfully implemented 23 skills courses in the Beqaa and North Lebanon. Within this program over 470 people were trained with 60% of the trainees being women and 40% men. In six months, our training enabled 87 people to secure full-time, part-time and entrepreneurial employment, with an additional 147 individuals expected to secure work by July 2016. The upcoming period will see 1,200 trainees over a two year period.

From September 2015 to March 2016, INTAJ successfully provided support to 21 businesses, 8 in the Beqaa and 13 in North Lebanon, in a range of sectors such as dairy, baked goods, furniture making, chemical production and others. This support resulted in 33 people securing full-time and part-time employment, with an additional 74 individuals expected to secure jobs by July 2016.

From September 2015 to March 2016, INTAJ successfully provided support to 13 entities in the recycling industry across the country. Through this support, 40 individuals secured full-time and part-time employment.
Published 27 June 2016