World news story
UK Statement on Cote d'Ivoire, 28th session of the HRC, Geneva
From:

Part of:

Published:

24 March 2015
This was published under the 2010 to 2015 Conservative and Liberal Democrat coalition government
The UK delivers a statement on the Human Rights situation in Cote d'Ivoire during an Interactive Dialogue with the United Nations Independent Expert on Cote d'Ivoire.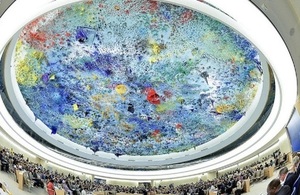 Thank you Mr President,
The UK would like to congratulate Mr Mohammed Ayat on his nomination as Independent Expert. We thank him for his oral report and look forward to seeing his written report at the twenty-ninth session of the Human Rights Council.
The UK welcomes the Government of Cote D'Ivoire's commitment to human rights and cooperation with this Council and its mechanisms. We welcome in particular the recent decision to repeal the death penalty from the Criminal Code.
We would, however, like to use this opportunity to urge the government to intensify their efforts to combat impunity and to ensure the alleged perpetrators of crimes against humanity are held accountable for their actions, regardless of political or other affiliations.
We would also like to highlight the importance of political dialogue between the government and the opposition. National reconciliation is crucial to ensuring lasting stability, and successful elections in 2015 have a key role to play in this regard. We would therefore like to urge all parties in Cote D'Ivoire to work towards a peaceful, transparent, free and fair election, whose outcome reflects the will of the Ivorian people.
Finally we would like to ask the Independent Expert how the international community can support the government and judiciary in Cote d'Ivoire to ensure impartial justice for post electoral violence?
Thank you Mr President.