World news story
UK Statement on Central African Republic, 28th session of the HRC, Geneva
The UK delivers a statement on the Human Rights situation in Central African Republic during an Interactive Dialogue with the United Nations Independent Expert on CAR at the Human Rights Council.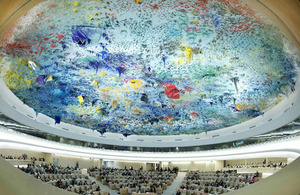 Thank you Mr President,
The UK welcomes Ms Keita Bocoum to the Human Rights Council and thanks her for her oral update. We remain deeply concerned about the security and humanitarian situation in the Central African Republic. The primary focus of the international community, including through forces deployed in CAR, should be to help stabilise the country and protect its civilians.
The UK deplores the continued acts of banditry by armed groups and calls on all actors to allow unhindered humanitarian access to civilian populations, in accordance with international humanitarian law. The UK welcomes the African Union's deployment of experts to CAR, co-financed by the UK, to support victims of sexual violence. This deployment is to provide protection, health facilities and assistance to victims of sexual violence and to help strengthen government and community networks in their prevention and response efforts.
The UK will continue to work with the Transitional Government and international partners. Effective and sustained engagement is needed to help deliver long-term peace and security. The holding of inclusive and transparent elections will be vital in this regard. Finally, we would like to ask the Independent Expert what more should be done to support victims of human rights violations, particularly sexual violence?
Thank you Mr President.
Published 24 March 2015