World news story
UK-sponsored initiative, Forsa, boosts small businesses in Egypt
Graduates of the Forsa mentoring programme celebrated their achievements in promoting entrepreneurship and sustainable economic development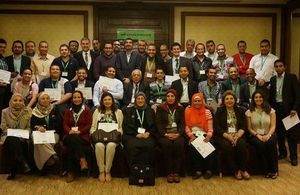 On Wednesday, 16 April, graduates of the Forsa mentoring programme met to celebrate their achievements in promoting entrepreneurship and sustainable economic development in Egypt.
Forsa is a UK-sponsored initiative supporting entrepreneurship in six Arab countries. The programme helps young Egyptian entrepreneurs benefit from the advice of senior business leaders.
Forsa is part of the UK's Arab Partnership initiative. The Arab Partnership promotes inclusive economic growth, media diversity, and accountability and transparency in Egypt and across the MENA region.
Between June and October 2013, Forsa held five three-day mentoring workshops in Egypt and matched 52 promising new entrepreneurs with experienced volunteer mentors from the business community.
Following the workshops, mentors continue to provide free one-on-one guidance and support to entrepreneurs for at least 12 months.
Speaking about Forsa's achievements in Egypt, Forsa Mentoring Manager Haider Shakiry said that "despite political instability affecting the majority of businesses and economic activity, we are witnessing increasing optimism among Forsa entrepreneurs thanks to their experienced and dedicated Forsa mentors. Consequently, several of our members in Egypt have reported increased commitment to and investment in their businesses."
Forsa mentors and entrepreneurs also spoke about their experiences in the programme. Forsa mentor Tamer Wadie, founder of Eagle Trade Company and a soft skills trainer, said that "mentors supply optimism and positive energy that helps their entrepreneur to rise above their difficult circumstances and seek a better future for themselves." Entrepreneur Ahmed Morsi concurred and stated that attending one of the Forsa workshops and meeting his mentor Hany Hussein "motivates me to work hard and persevere in spite of any setbacks."
As a result of the support he receives through mentoring, Ahmed said that he has succeeded in expanding his printing line and is working towards achieving his goal of owning the largest printing business in Egypt and eventually the region. The event was also attended by representatives from Forsa's Egyptian network partners and supporters Education for Employment Egypt and the Social Fund for Development Egypt.
According to Shakiry, Forsa is now working with Arab governments on developing a mentoring policy toolkit outlining the importance of mentoring for sustainable economic growth, job creation and unlocking entrepreneurial potential within the Arab region.
Forsa is a UK-sponsored initiative, which is part of a commitment by the G8 and Deauville Partnership nations to support Arab countries in transition.
Published 24 April 2014