World news story
UK smart cities mission in Taiwan
Mission showcasing UK expertise is part of the 'Innovation is GREAT' pavilion at the Smart City Summit and Expo 2019 in Taipei.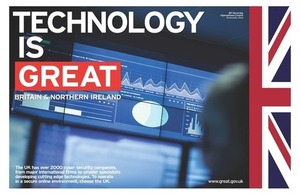 The smart cities mission, composed of 22 British businesses, is led by Dr Mike Short, Chief Scientific Adviser of the UK's Department for International Trade (DIT). They are showcasing UK expertise on cyber security technology, Internet of Things (IoT), and connected autonomous vehicles (CAV) at the 'Innovation is GREAT' pavilion at the 2019 Smart City Summit and Expo at Taipei Nangang Exhibition Centre from 26 to 29 March.
With over 40 years' experience in electronics and telecommunications, Dr Short said:
The term of smart city has endless meaning. The key objectives are to be secure (including cyber security), environmentally conscious (green/clean tech), connected (IoT, 5G), efficient (AI), sustainable (long-term planning) and informed (Big Data/AI). Against these objectives, connectivity is the foundation on which smart city solutions are built.
Dr Short will deliver a keynote speech titled '5G in the UK' to share the current development of the UK's 5G industry at the 'World Telecom Smart City Conference – Towards a 5G Future' on 28 March 2019.
Smart cities market
The latest projections by the influential London-based Future Cities Catapult Centre show that the smart cities market is expected to grow by 20% per year from over $300 billion in 2015 to over $750 billion in 2020.
The largest market currently is Europe with a size of close to $130 billion.
UK smart cities expertise
The UK government is supporting cutting edge research in key areas including the 'IoT', security technologies, intelligent search, supercomputing, and systems modelling and analysis.
The UK aims to be a world leader in smart city solutions by developing an ecosystem to support the network of innovative SME's across the country. Many of these work closely with leading academic institutions to deliver world-class services.
UK smart cities businesses offer services and expertise on:
cyber security
design and manufacture of autonomous vehicles
digital citizen services
industry-leading solution and application
database ingesting and analysing
digital learning tools
IoT connectivity
billing and security service
smart educational toys
cloud-based software
A UK forum focusing on the CAV supply chain takes place today. Experts from the UK share the current development of CAV with Milton Keynes Council, and show how trial projects were commercialised with Aurrigo.
The 'Innovation Is GREAT' Pavilion is in Hall 1 (i114 booth), Taipei Nangang Exhibition Centre.
Published 26 March 2019