News story
UK shielding Scotland from oil price drop, says Carmichael
Scottish Secretary responds to questions at Scottish Affairs Committee.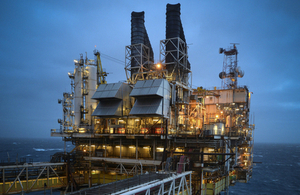 The drop in global oil prices to $82 a barrel would have left an independent Scotland with a further black hole in its budget leaving less to spend on essential public services, the Secretary of State for Scotland said today.
Responding to questions at the Scottish Affairs Committee earlier, Alistair Carmichael said Treasury analysis showed the Scottish budget would have dropped by £8.7bn between 2016-18 when compared to the Scottish Government's estimates.
The Minister said the figure represented around a third of the annual resource budget for all of local government in Scotland each year.
He said:
The UK Government adopted a sensible and realistic approach to our hugely valuable natural resource during the referendum, pointing out the volatility of the revenues and their potential impact on the economy of an independent Scotland.

Scottish oil revenues have come in below the Scottish Government's most pessimistic white paper estimate by around £2 billion in 2012-13 and over £3 billion in 2013-14.

This was the case before the recent fall in global oil prices – down to around $82 today.

Over the past 24 hours, my office has received an update from Treasury on the impact of this falling price.

An oil price of $82 - $28 lower than the $110 assumed by the Scottish Government – reduces their own forecast of oil revenues by a cumulative total of £8.7 billion over the three years 2016/17 to 2018/19.

That should give us all pause for thought, not least those who favour independence.

Had Scotland been independent today, the Scottish Government would have had billions less to spend on essential public services.

This is not a dry argument about oil revenue: these numbers represent the ability – or otherwise – of an independent Scotland to pay for doctors, nurses, teachers and other services on which the public rely.

It is increasingly clear that the vote to stay in the stability and security of the UK is the best choice for Scotland – by avoiding this sort of financial shock.
Brent, the international benchmark, declined 2.3%, to $82.82, having earlier fallen to $82.08, its lowest level in just over four years.
Total North Sea revenues were over £11 billion 2011-12, falling to £6.1 billion in 2012-13 and £4.7 billion in 2013-14. They have therefore fallen by more than half in just two years.
Published 5 November 2014