World news story
UK Secretary of State for International Development visits Jordan
Since the start of the Syria crisis in 2011, the UK has provided over $0.5 billion in support to Jordan.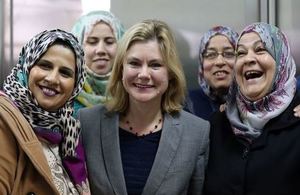 On Thursday 14 January, UK Secretary of State for International Development Justine Greening visited Jordan. During her visit, she held meetings with Minister of Education H.E. Dr Mohammed Thuneibat and Minister for International Cooperation and Planning H.E. Mr Imad Fakhoury. Their discussions focussed on UK support for Jordan in the education and development fields, as well as preparations for the upcoming Syria conference in London.
Later, the Secretary of State visited the city of Irbid, where she toured a Syrian-owned factory that employs Jordanian and Syrian workers and visited a UK-supported CARE International programme that provides vocational training to Jordanians hoping to enter the job market. She also met the Governor of Irbid, H.E. Saed Shehab.
Speaking during her visit, Justine Greening said: 'Jordan and the UK have a key and historic relationship. From day one of the Syria crisis we have been working together to help Jordan, which has been generous in hosting many displaced Syrian families, to make sure that all children are in school and that jobs are being created. Last year alone, UK support to Jordan was worth over $100m, over half of which was spent in Jordanian communities that are hosting large numbers of Syrian refugees. This also provided essential services helping host communities.
'The UK will continue to work with Jordan. As our Prime Minister said to Her Majesty Queen Rania in London last week, ensuring that the right education and employment opportunities are available in jordan will be vital to securing a bright future for all those in the region and will create a long term legacy of better schools and jobs for the people of Jordan.
'I'm delighted to have seen today how the UK is helping young people in Jordan achieve this, investing in Jordan's future by helping provide the skills Jordan needs to be successful.'
Since the start of the Syria crisis in 2011, the UK has provided over $0.5 billion in support to Jordan. The overall UK Syria crisis response is the UK's largest ever crisis response and has been worth over £1.1 billion to date.
Published 18 January 2016